Download the Later mobile app to plan, schedule, and publish posts. Here's a look at what you can do with our mobile app.
Note:
Please ensure you're using the most recent version of the Later mobile app when following this guide.
Important:
Upload Media and Schedule Posts
In the Media tab, you'll see your Media Library. Here you can:
Set Up Auto Publish for Instagram
If you have an Instagram business profile, you can set up Auto Publish on Later's iOS and Android apps.
To see how it's done, check out how to Enable Auto Publishing for Instagram.
Publish Posts to Instagram
If you've scheduled a Notification post, Later will send you a push notification when it's time to publish your post. Certain posts must be published through push notifications, including: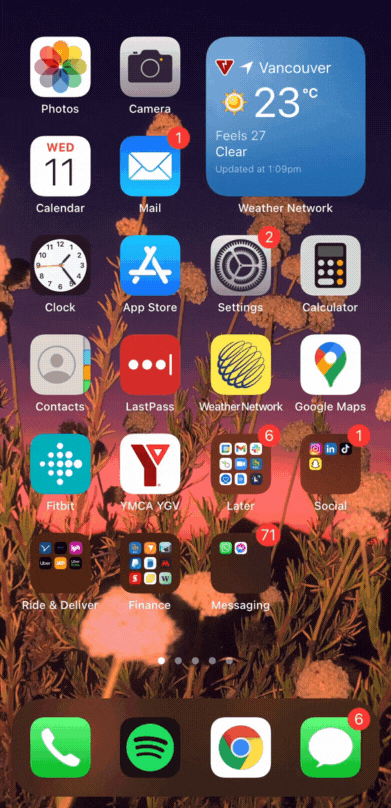 See Scheduled and Published Posts
In the Schedule tab, you'll see posts that are ready to post and ones that have already been posted. You can view your posts in List View, Preview, or Calendar.
Note: You can't schedule new posts from the mobile Calendar. Free plans can only see 2 weeks back and ahead in the Calendar, while paid plans can see 1 year back and ahead.
Plan Your Feed with the Visual Instagram Planner
In the Schedule tab, you can open the Visual Instagram Planner from Preview. From there, you can Add Media to Quick Schedule a new post, or drag and drop your scheduled posts to rearrange them.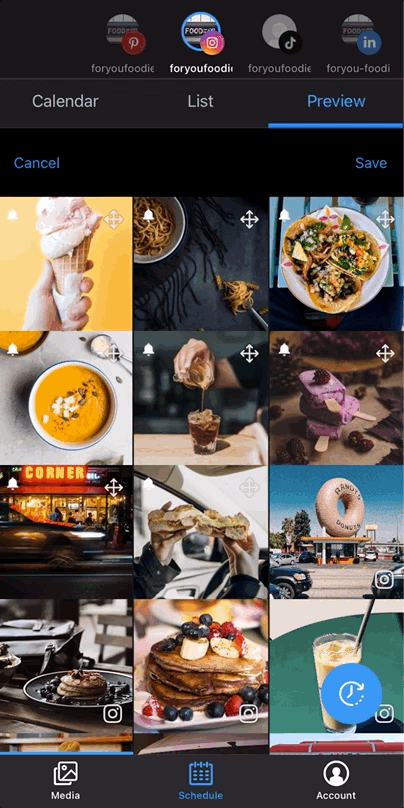 Note: Due to limitations from Instagram, your Visual Instagram Planner will show all of the Reels that you have posted (not just those shared to your feed).
Set Up Linkin.bio
You can set up Linkin.bio from the mobile app. Here's how:
Create an Instagram post

Next to Linkin.bio, tap

Enable

and then

Set Up

Choose the layout of your Linkin.bio page

Enter button text and a button URL for the button that shows up at the top of your Linkin.bio page

Tap

Next

Copy your Linkin.bio link and paste it into the website field of your Instagram bio

Tap

Complete Setup
Add Linkin.bio Links to Published Posts
In the Later mobile apps, you can add Linkin.bio links to Instagram posts published through Later.
Note: At this time, only Instagram Linkin.bio links are supported on mobile (not TikTok)
iOS
In the iOS app, go to

Schedule > List > Published

Tap on the post you want to add a link to

Under Additional Options, tap Linkin.bio

Enter a link and save
Android
In the Android app, go to Schedule > List > Published

Tap on the post you want to add a link to

Tap

Add Link

next to Linkin.bio

Enter a link and save
Add or Remove Social Profiles
In the iOS app, you can add and remove Instagram profiles, TikTok profiles, and Facebook Pages. Twitter, Pinterest, and Linkedin profiles need to be added using app.later.com on desktop. See this article for instructions
Note: You can't add or remove social profiles on the Android app right now.
Switch Between Access Groups
iOS
To switch between Access Groups, go to the Account Tab and tap Switch Access Group. Then select the Access Group you'd like to work in.
Android
Tap the square on the top left corner, then tap the down arrow and select the Access Groups you'd like to work in.
Manage Notifications and Quick Schedule
From the Account tab, you can:
See your linked social profiles

Manage push notifications for your device

Change your

Quick Schedule time slots


Access Help