Important:
Quick Scheduling is available for Instagram, Facebook, Twitter, TikTok, and LinkedIn
Quick Scheduling is not available for Pinterest
When Quick Scheduling Instagram posts, posts will default to Notification posts due to Instagram limitations
Quick Schedule can be set up on the web and mobile apps
How Quick Scheduling Works
Quick Scheduling lets you create recurring weekly time slots for scheduling your content. Simply drag and drop your media to the top of your calendar to bulk schedule multiple posts at once!
Only one post can be scheduled in a single time slot.
All Quick Schedule Instagram posts will be scheduled as Notification posts.
If you add, remove, or change time slots in your Calendar, updates to the time slots will be reflected in the following weeks.
If you update a time slot that has a scheduled post in it, the scheduled post's date and time won't be updated; only the time slot itself will be updated.
You can use your Calendar or Visual Instagram Planner to Quick Schedule your Instagram posts.
Creating Your Weekly Schedule
Before you can Quick Schedule your posts, you need to create your weekly schedule.
In Later on the web, go to your Calendar
Select the single profile you want to set up Quick Schedule for
Double-click on any time slot in your Calendar to open the Quick Schedule wizard
Click Get Started
Select the days and times for up to 7 Quick Schedule time slots to start.
Click Next and Finish
Note: The Quick Schedule wizard will only pop up if you don't have any Quick Schedule time slots created. To add, remove, or a change a time slot, see how to change your Quick Schedule time slots.

Note: Quick Schedule isn't available for multi-profile scheduling.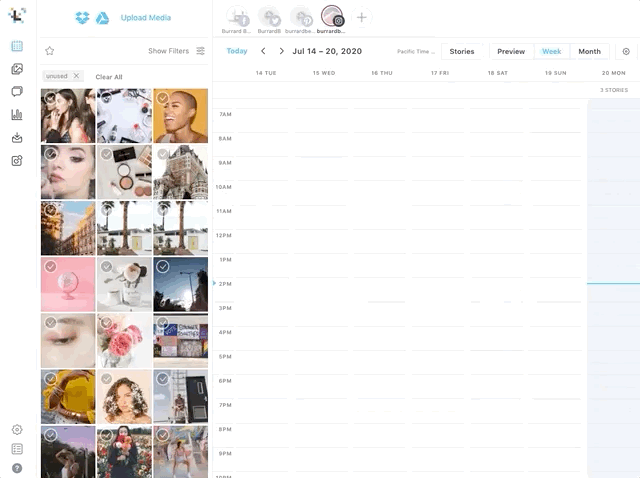 Quick Scheduling Your Posts
Once you've created your Quick Schedule, you can start scheduling your posts.
In your Calendar's side library, select your media in the order you want them to be scheduled
Click Quick Schedule at the bottom or drag and drop your media onto the top of your Calendar
Your posts are now Quick Scheduled
Go into each post in your Calendar to add captions. You can also change Instagram Notification posts to Auto Publish, if enabled
Note: Quick Schedule Instagram posts can't be defaulted to Auto Publish due to Instagram limitations.
Tip: Save time by writing your captions in your Media Notes before scheduling. The text will be automatically copied to your post's caption, so your content is ready to publish.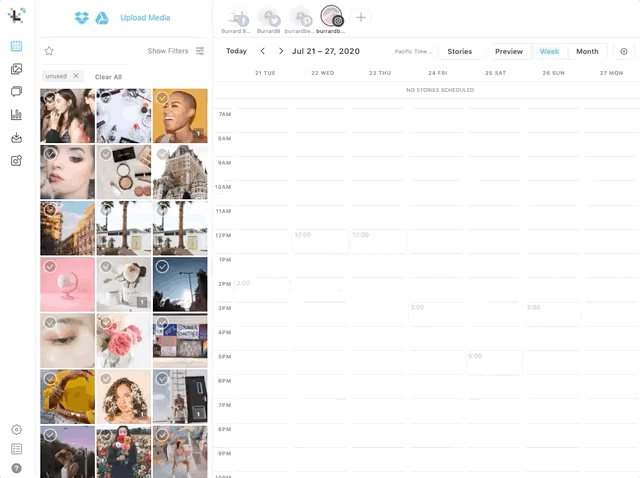 Changing Your Quick Schedule Time Slots
Need to add, remove, or change your Quick Schedule time slots? Here's how:
Later on the web
Adding a time slot: Double-click on a new time slot in the Calendar.
Removing a time slot: Hover over the time slot and click the x in the top right corner.
Changing a time slot: Drag the time slot to a new slot in the Calendar.
Adding, removing, or changing time slots: Go to Account > Quick Schedule Settings to manage your time slots.
Important: If you add, remove, or change a time slot, the change will be made for all following weeks as well.