Just signed up for Later? Or maybe you need a refresher? Here we'll outline Later's key features to get you started.
What is Later?
Later's an all-in-one platform for visual social media marketing. With Later you can:
Upload

and

collect media

in the Media Library

Schedule

and

publish media

posts for Instagram, Facebook, Twitter, Pinterest, TikTok, and LinkedIn

Analyze post performance

Drive traffic from your Instagram bio

to your sites using Linkin.bio

And much more!
Add Your Social Profiles
To start scheduling, first you'll connect your social profiles.
To do this, click the + button at the top of the Calendar. You'll be asked to log in to the social profile. This will grant Later permission to publish and gather data for you. Learn more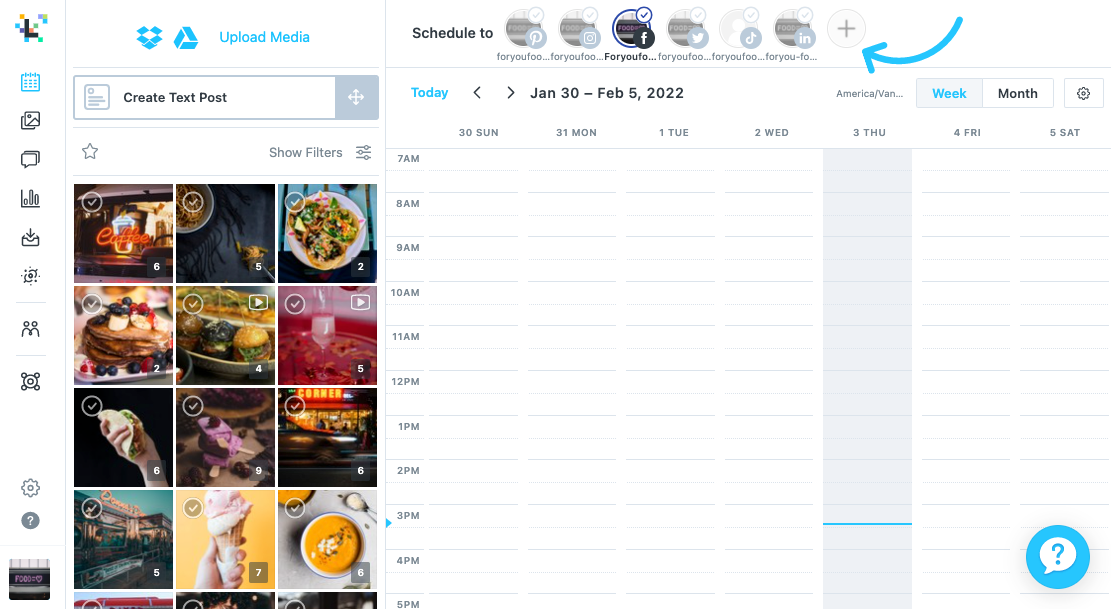 Upload Photos and Videos
Later lets you upload and store as many photos and videos as you like in the Media Library. Then you can add Labels and Media Notes to keep things organized.
To upload, drag and drop media into Later. Or click the Upload Media, Google Drive, or Dropbox button at the top of the side library.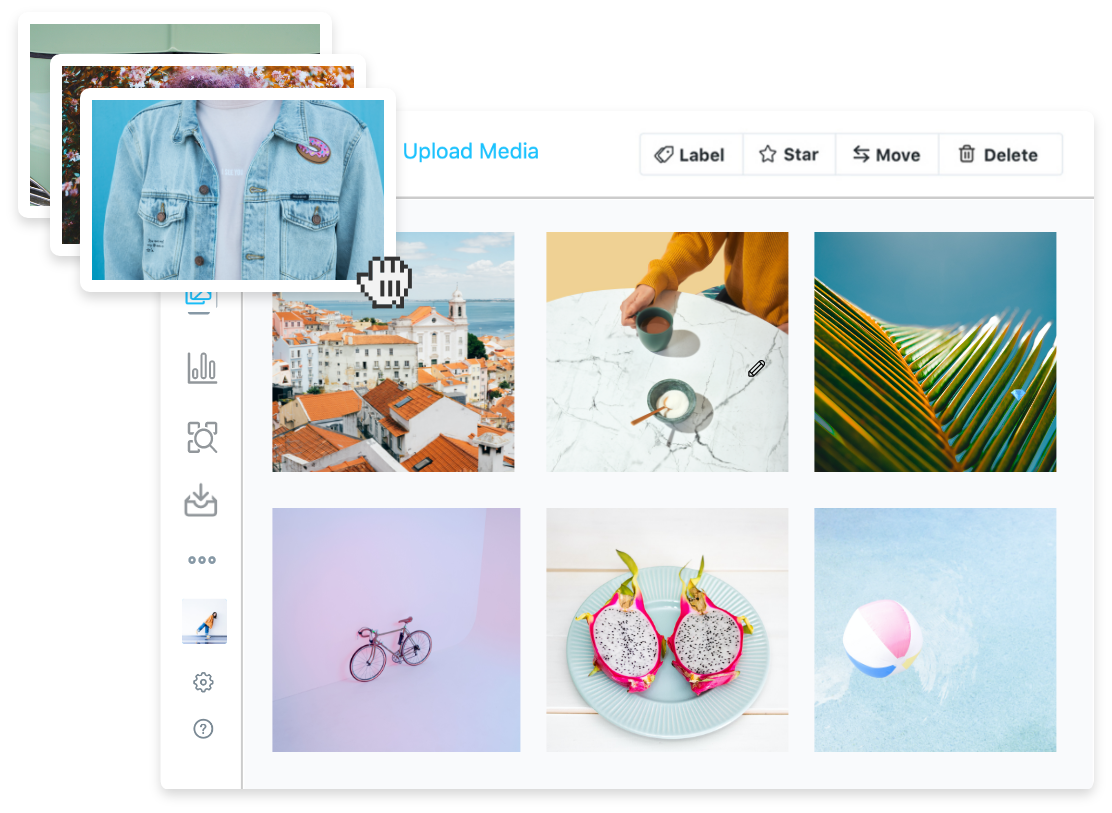 Need more media?
Use Later's
Collect features
to gather media from the web or the Unsplash stock photo library!
Schedule Your Posts
Later helps you plan your entire week (or month) from your computer or mobile device, so you can schedule posts in advance and forget about them. Here's a quick look at how to schedule posts from Later on the web:
At the top of the

Calendar,

select the social profile(s) you want to schedule your post to

Drag and drop media from your

Side Library

onto your Calendar, or open a photo or video in the

Media Library

and click

View on Calendar

>

Create Post

Edit your media, write a caption, and add hashtags

Click Schedule Post

Alternatively, click the down arrow next to the Schedule Post button >

Save as Draft

to save your post as a draft and come back to it later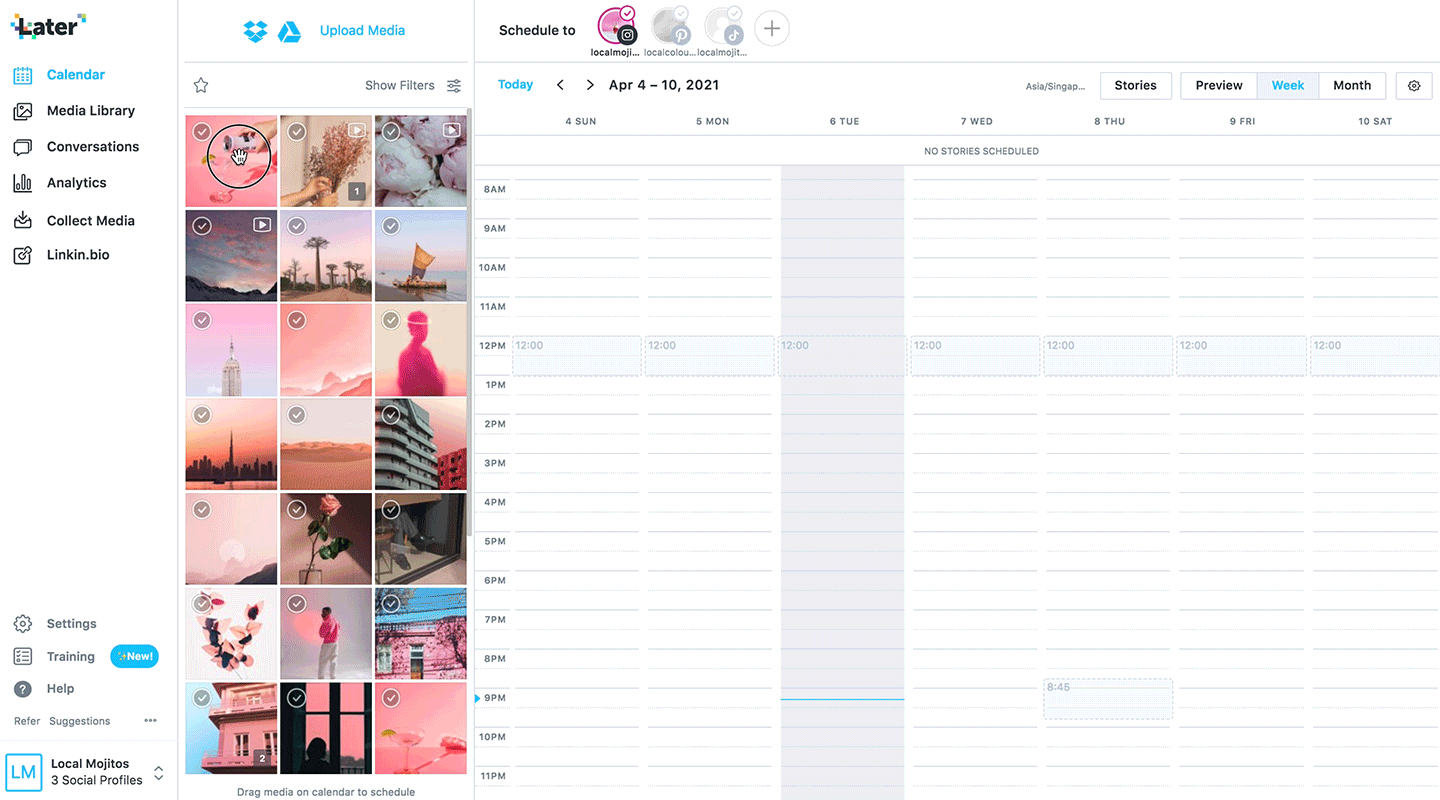 Publish Your Posts
Later offers two ways of publishing—Auto Publish and notification publishing.
Auto Publish:
Your post will automatically be published at your scheduled time. Facebook, Twitter, Pinterest, and LinkedIn posts are always Auto Published.
To Auto Publish to Instagram or TikTok, you'll need an Instagram business profile or a TikTok Business Account. You must enable Auto Publish first to automatically publish single-image/video and Multi-Photo (carousel) posts as well as Stories to Instagram, and videos to TikTok.
Due to Instagram restrictions, posts for Instagram personal and creator profiles cannot be auto published. These must be posted using notification publishing.
Notification Publishing:
Some Instagram posts must be published through notifications. TikTok Personal Accounts and Instagram personal and creator profiles are also restricted to notification publishing.
We'll send a push notification to your mobile device when it's time for you to publish your post. Make sure to download the Later mobile app and set up your mobile notifications first.
Here's how to publish single image and video posts using notification publishing:
Open the mobile notification we send at your scheduled publishing time

Tap

Open in Instagram or Open in TikTok

Select

Feed

Edit your media if you'd like and tap

Next

Tap the caption field and select

Paste

to paste the caption we automatically copied for you

Tag people or a location if you want

Tap

Share (iOS) or the checkmark (Android) to publish

Track Your Post Performance
Use Later's Analytics to see how your posts perform over time. Knowing which posts get the best engagement can help you plan future posts.

Analytics are available for:
Select Analytics from the left-side menu, then choose your social profile at the top of the screen. From here you can start exploring your data!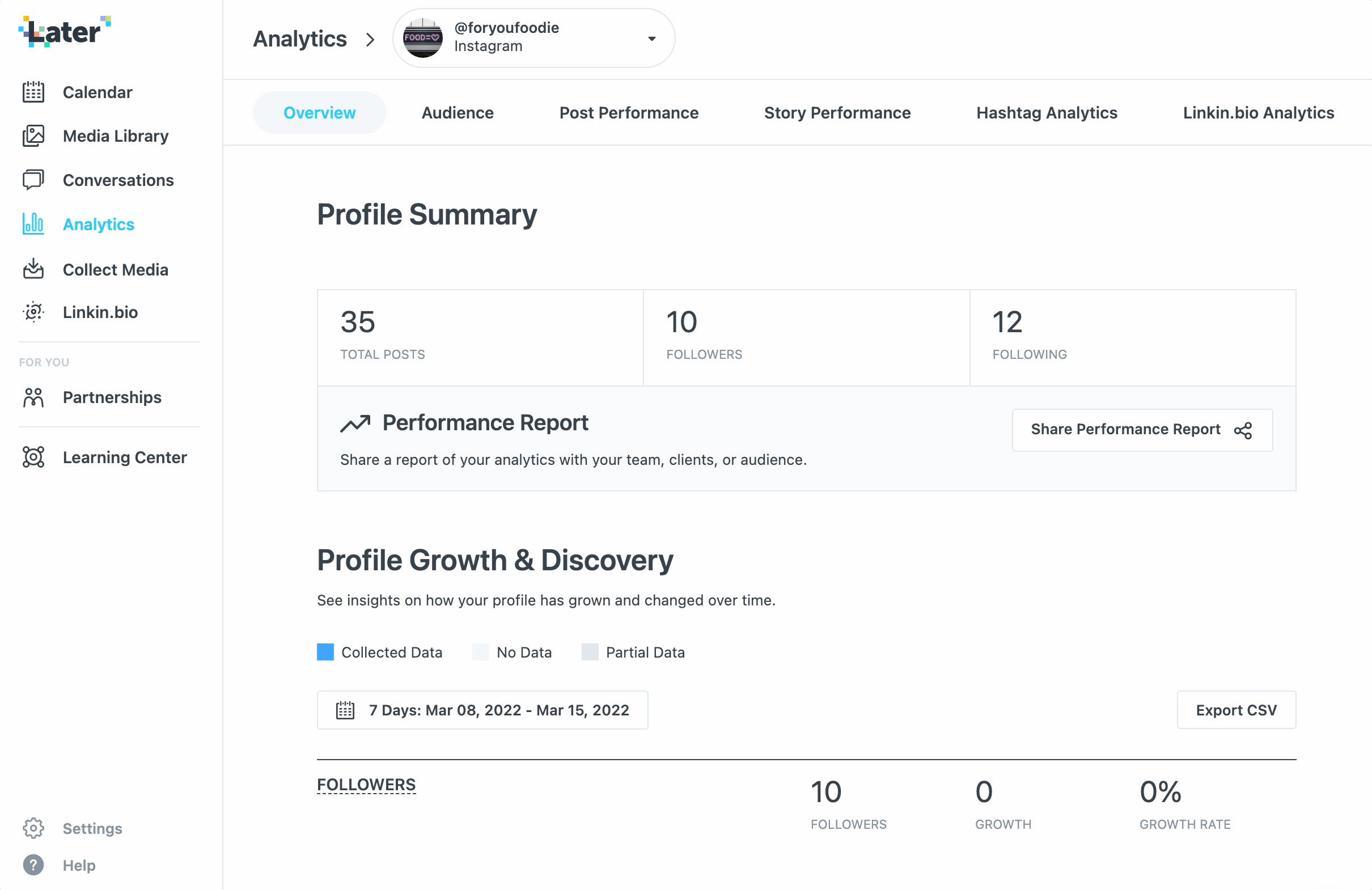 Drive Traffic With Linkin.bio
Linkin.bio is like a mini-website built into your Instagram profile. Add buttons and link Instagram posts to build your own Linkin.bio landing page. Drive traffic to your website, blog, online store, and any other web pages right from the link in your Instagram bio. Here's how to get started:
1. In Later on the web, select the Instagram profile you want to set up Linkin.bio for
2. Go to Linkin.bio and click Get Started
3. Build your Linkin.bio page by adding blocks:
Buttons

: Add buttons to drive traffic to your website, blog, online store, or any other web pages. You can add as many buttons as you like and toggle them on and off. Paid plans can also customize button color

Featured media:

Add featured media to show off your latest Linkin.bio post as an enlarged image

Linked Instagram posts

:

Add links to Instagram posts to direct your audience to product pages, blog posts, videos, or any other web page
4. Click Copy next to your Linkin.bio page link
5. Add your Linkin.bio page link to the website field of your Instagram bio
Now your followers can click the Linkin.bio page link to find any page or product you point them to in a post, anytime.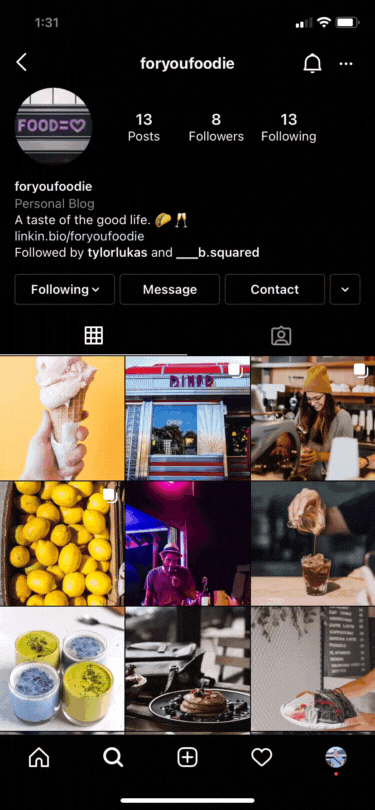 And that's it, you're ready to start using Later.
More You Can Do in Later
Once you've gotten the hang of planning, scheduling, and publishing with Later, you'll find a lot more you can do:
And for Starter, Growth, and Advanced plans:

Related Articles:
Technical Requirements for Using Later
Supported Social Platforms and Post Types
Add, Remove, and Transfer Social Profiles in Later
Enable Auto Publishing for Instagram