Have you found an unverified Instagram post on your Calendar? This article will outline what an unverified post is, and how to fix it.
What's an Unverified Post?
When using notification publishing, an unverified post happens when Later isn't able to find the post on your Instagram feed after you've started the publishing process. There are two reasons this may happen:
The post was not fully published after tapping Open in Instagram
The post was significantly edited in instagram before publishing, making it unrecognizable to Later
Note: It can take Later several minutes to verify a post. If you're post was successfully published within the last few minutes, wait 10 minutes then refresh Later to check if the post has been verified.
Later does it's best to make sure your posts are successful, so we look for the post a few minutes after it's been posted, to make sure it worked. If we can't find it automatically, we flag the post on your calendar as "unverified". This gives you the chance to verify or reschedule the post.
Preventing Unverified Posts
Ensure you have the correct Instagram account selected in your Instagram app before clicking Open in Instagram
Make sure you finish the publishing process completely when using notification publishing
Use Auto Publishing (Auto Publish posts don't require verification)
Options for Fixing Unverified Posts
There are three actions that you can take with an unverified post: Verify, Reschedule, or Discard.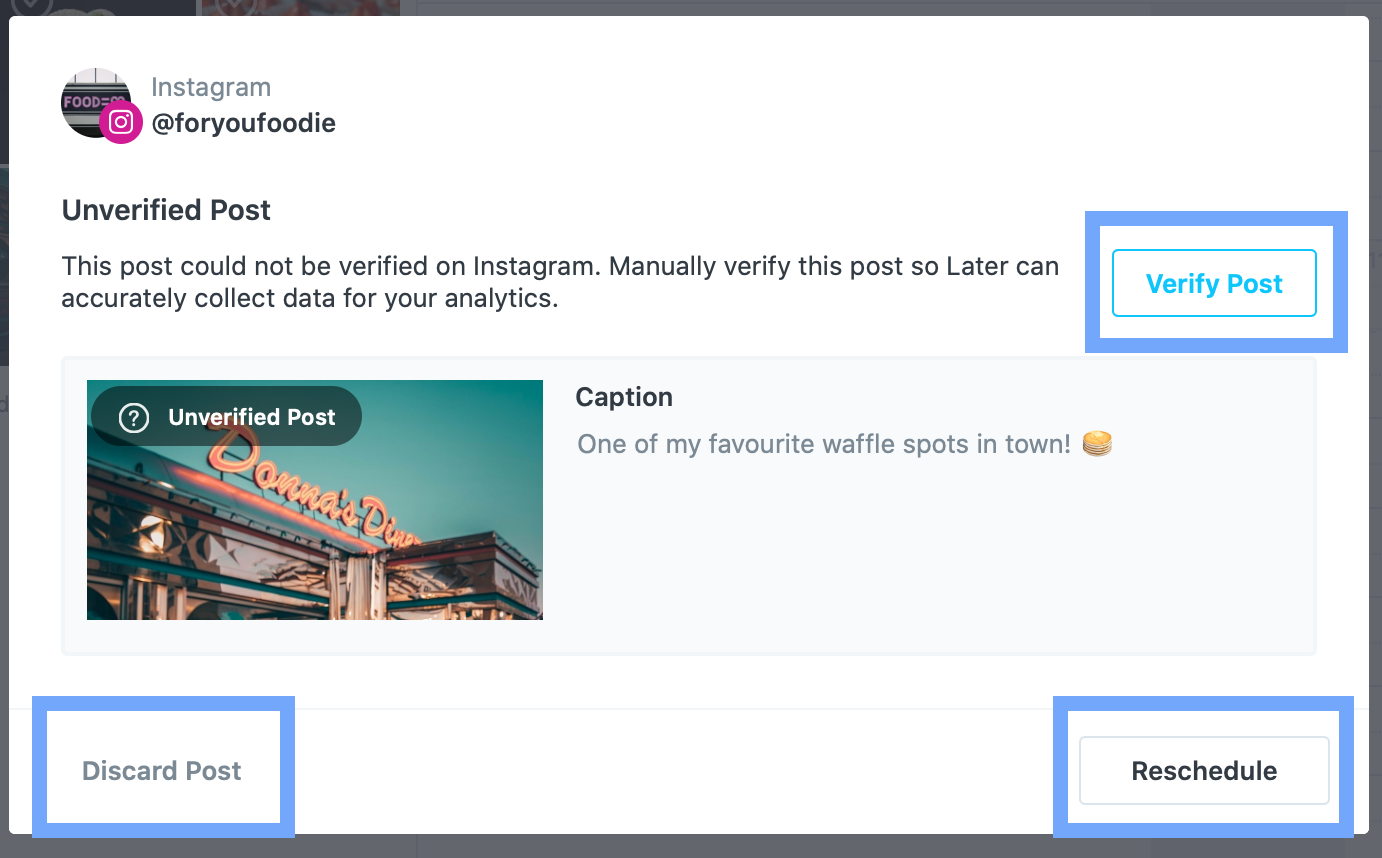 Verify Post
If you've published the post successfully, you can manually verify the post. Here's how:
Click the unverified post on your Calendar
Click Verify Post
Within Later, you'll see your instagram feed. Select the matching post there.
Note: If you don't see the matching post, it's likely the post was not successfully published. In this case, click Match not found? and either reschedule or discard the post.
Click Verify Post > Verify

Reschedule
If you didn't finish the publishing process but still want publish the post, you can reschedule it.
Open the unverified post on your Calendar
Click Reschedule
You'll be taken back to the post builder, where you can set the new time and date
Discard Post
If you've decided you don't want to publish the post, click Discard Post to remove it from your Calendar.

Related Articles:
Troubleshooting Failed Posts