Linkin.bio is like a mini-website built into your Instagram profile. Not sure what Linkin.bio is? Check out What is Linkin.bio, before setting up your page.
This article will show you how to create your page and where to add your Linkin.bio page link.
Step 1: Build Your Linkin.bio Page
In

Later on the web

,

click

Linkin.bio

in the side menu

Select your Instagram profile from the profile selector at the top of the page

Click

Get Started
This will bring you to the Linkin.bio management page, where you can edit the following elements of your Linkin.bio page.
Edit Your Profile
Your Linkin.bio page includes your Instagram's profile picture (this can't be changed), a profile name, and a short bio.
Click

Edit

next to Profile

Change the profile name if you'd like

Write a short bio up to 115 characters

Save your changes
Add Buttons
Buttons let you drive traffic to your website, blog, online store, or any other web pages. Here's how to add them:
Click

Add

or

Edit

next to

Buttons

Enter your button text

Enter the link the button should go to

Current plan

users can also:
Click

Add Another button

to add another button (legacy plans are limited to 1 button)

Toggle buttons on and off by clicking the

Show

toggle

Change the button order by drag-and-dropping buttons above or below others
Click
Save Changes
Note:

If you're on a current Starter, Growth, or Advanced plan, you can customize the background and text color of your buttons.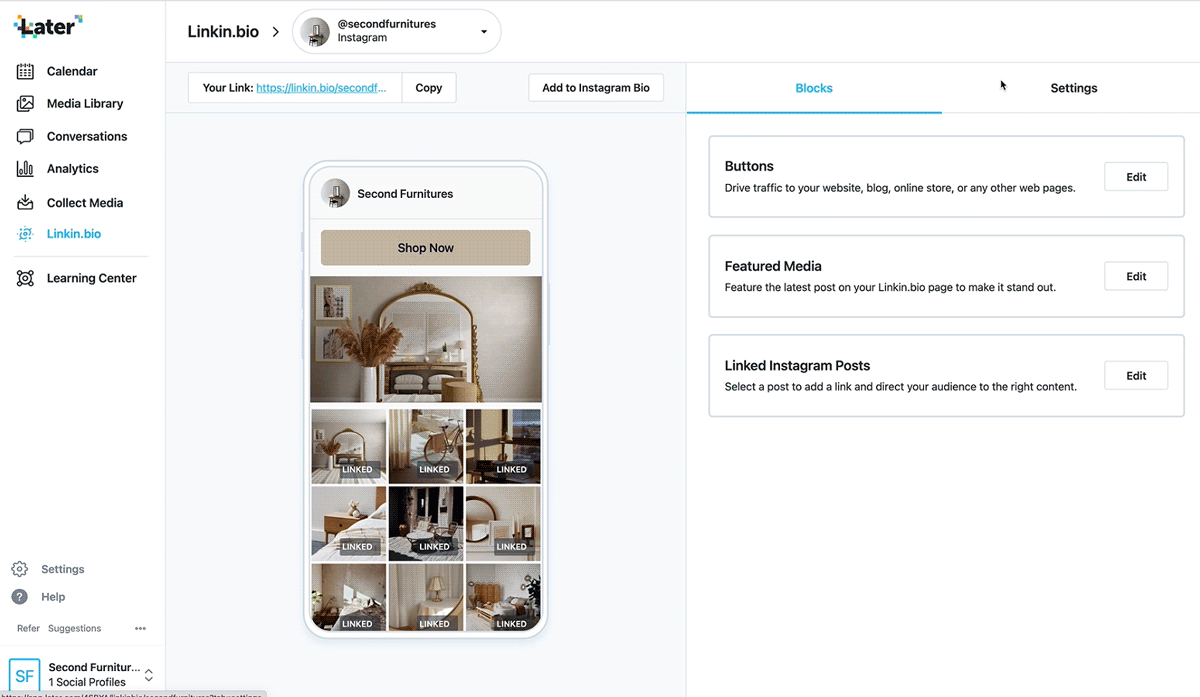 Add Linked Instagram Posts
Add links to Instagram posts in Later to have them shown on your Linkin.bio page. Your followers can then click the post to be taken directly to any URL or product you choose.
From the preview feed, select the post you want to add a link to

Add a single link in the Linkin.bio field and click

Save Changes
Note:

Linkin.bio Standard users can

add multiple links

by selecting

MORE LINK OPTIONS

.

Optional:

Connect your Shopify store

to tag your products (

Linkin.bio Standard only

)
Note: You'll also be able to add links when scheduling or editing Instagram posts in Later.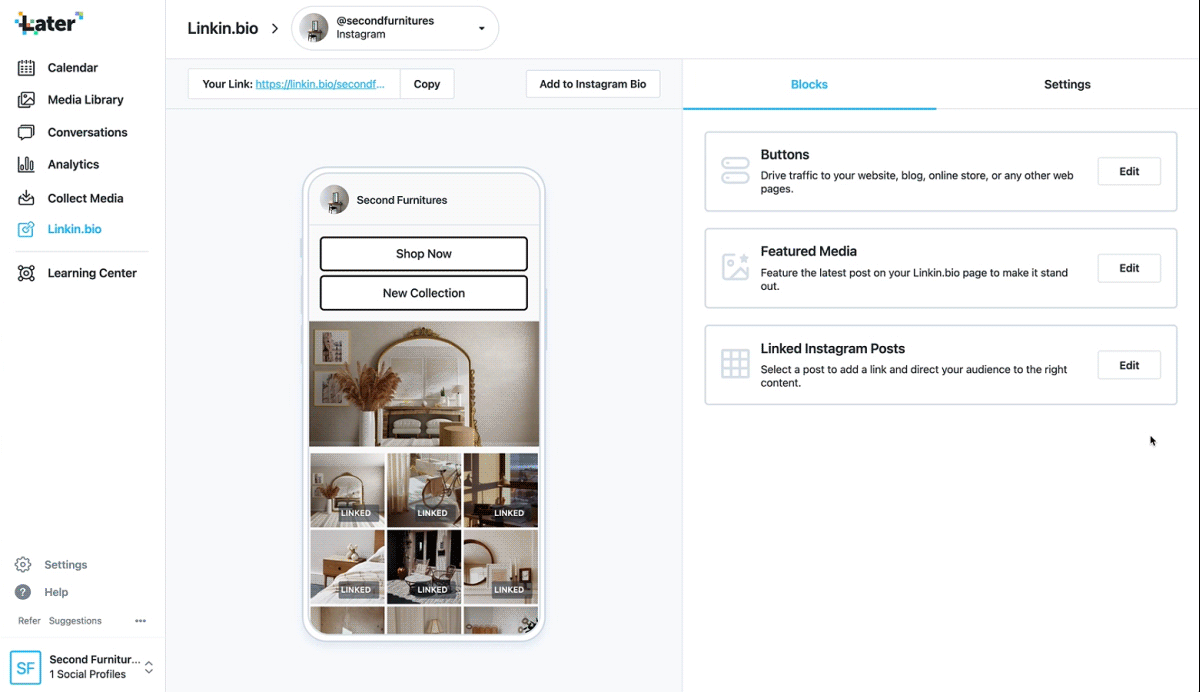 Choose to Featured Media
If your Linkin.bio page includes linked Instagram posts, you can feature the most recently published post as an enlarged, clickable featured image.
Or, if you're on a Growth or Advanced plan, you can feature a YouTube video here instead.
Under

Blocks,

click

Featured Media

Under What do you want to feature?

Click the dropdown menu between

Latest Linkin.bio Post or YouTube Video

Don't want to feature your latest Linkin.bio post? Select No Featured Media.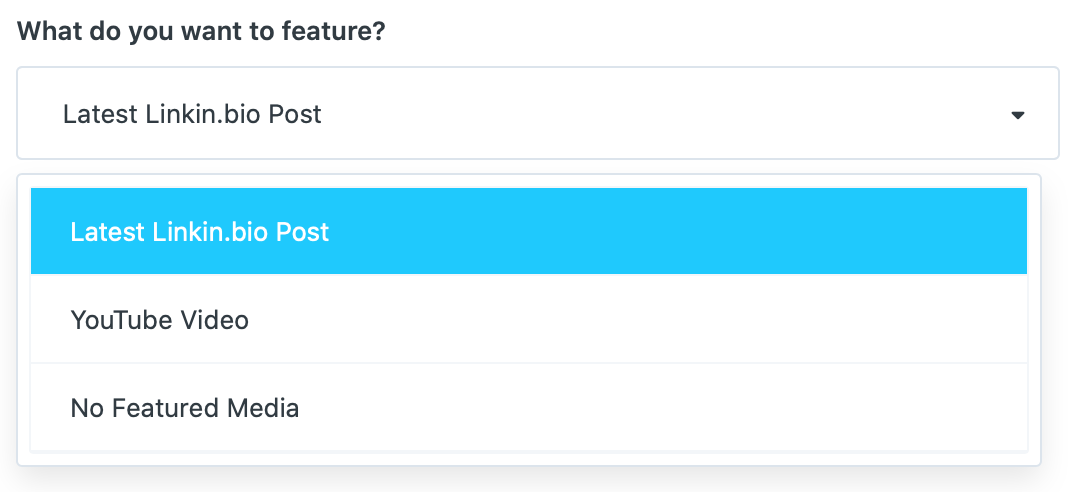 Tip: After you've built your Linkin.bio page, click on your Linkin.bio page link to see what your Linkin.bio page looks like!
Step 2: Add Your Linkin.bio URL to Your Instagram Bio
Add your Linkin.bio page link to your Instagram bio so your audience can click through or shop on your Linkin.bio page.
On your Linkin.bio management page, click

Copy

next to your link

Click

Add to Instagram Bio

and

Go to Instagram Profile

. This will open Instagram

Log in to Instagram if you're not already logged in

In the

Website

field, paste your copied Linkin.bio link
Note: If you already have a website link on your Instagram profile page, replace it with your Linkin.bio link. Remember, you can add buttons to your Linkin.bio page to redirect your audience to your website or other pages.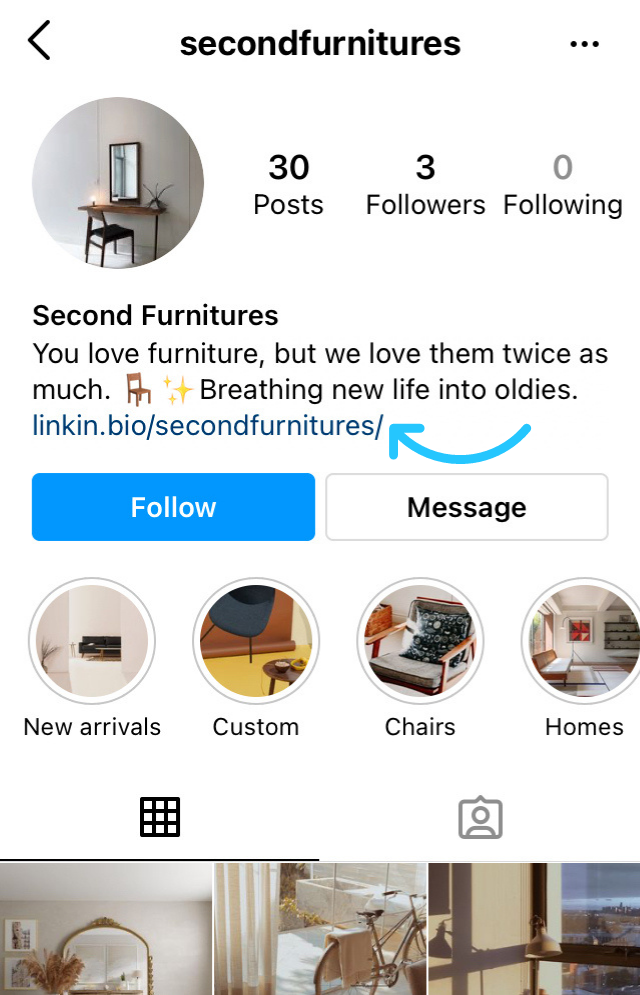 Step 3 (Optional): Enable Google Analytics UTM Tracking
If you already use Google Analytics to track conversion and sales, enable Later's UTM tracking to make things easier.
On your Linkin.bio management page, select

Settings

.

Enable UTM Tracking.
Important: If you're already adding your own UTM parameters to links, don't enable Later's UTM tracking. This will interfere with the tracking.
Tip:
Use
Linkin.bio Analytics
to monitor the clicks and visits your Linkin.bio page generates over time.