Search by Hashtag is only available on Later's paid plans.
Search by Hashtag is available for Instagram business and creator profiles only.
This feature is not supported through our iOS and Android mobile apps.
You can search up to 30 unique hashtags per Instagram account in a rolling 7-day window. If you search a hashtag on another third party service or tool that uses the Instagram API on your behalf, that search will count toward your 30-hashtag limit. Hashtag searches from other services and tools will also show up in your search history in Later.
If you search the same hashtag more than once, it will only count as one hashtag search for that period.
Only Instagram posts published in the last 24 hours will show in the search results.
@mentions of other users in the original post's caption won't include the "@" when saved to your Notes, so you'll need to add the "@" to re-mention someone.
Search for Posts by Hashtag
In Later on the web, go to the Group you want to use Search by Hashtag for.
Go to Collect Media > Search > Hashtag.
Search for a specific hashtag. Make sure to type in the exact hashtag because Search by Hashtag doesn't support autocomplete.
Select an image you want to save and then Add to Library.
Note: The username, caption, and hashtags from the original post will be added to your Notes so you can credit the content owner.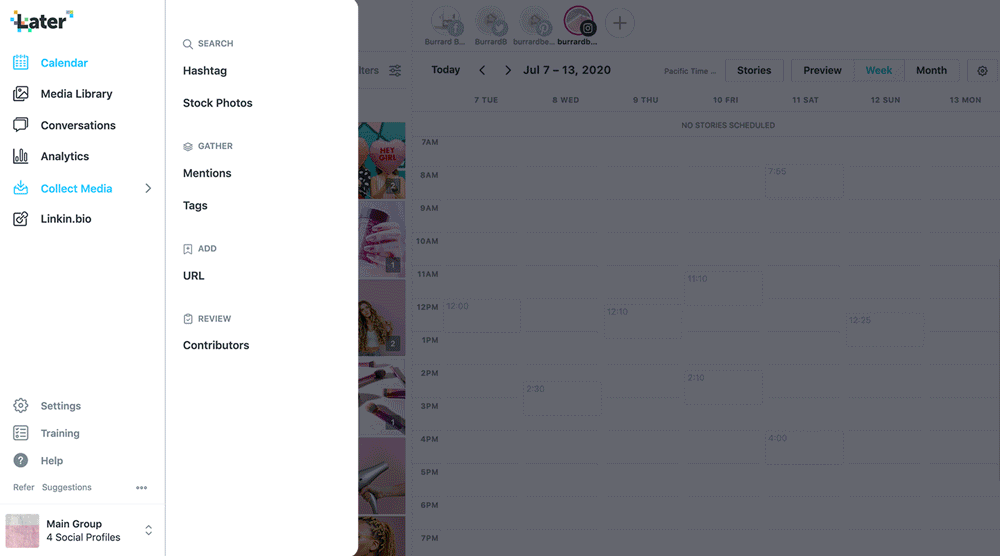 Important: Due to Instagram's API limitations, @mentions of other users in the original caption won't include the "@" in your Notes. Be sure to add the "@" if you want to re-mention users in your repost.
Find Media Collected from Search by Hashtag in Your Library
Go to your side library.
Select Show Filters at the top.
Under System Labels select the repost label.
Media collected from Search by Hashtag will be shown.
When you're ready to repost, select a media item and schedule it.