Later's TikTok Analytics lets you monitor trends in your TikTok's overall performance, measure growth over time, and discover which of your posts are driving the most engagement.
Important:
TikTok Analytics are only available for users on

Starter, Growth, and Advanced Plans

Starter plan users can view data from the last

3 months

; Growth and Advanced plan users can view data from the last

12 months

TikTok Analytics is currently only available through

Later on the web

(not available on mobile)

Due to TikTok API limitations, only

TikTok Business Accounts

have access to Analytics.

Switch to a Business Account

In addition, only TikTok Business Accounts with over 100 followers will be able to see Audience Analytics

After adding your TikTok profile to Later, It will take

up to 24 hours for data to initially appear

, and up to 60 days of data will be backfilled

Due to TikTok processing times, it will take

up to 48 hours for new data to appear

, so some metrics may not display data for the most recent 2 days
Accessing TikTok Analytics
From the left side menu, click Analytics. Then, select your TikTok profile from the dropdown menu at the top of the page: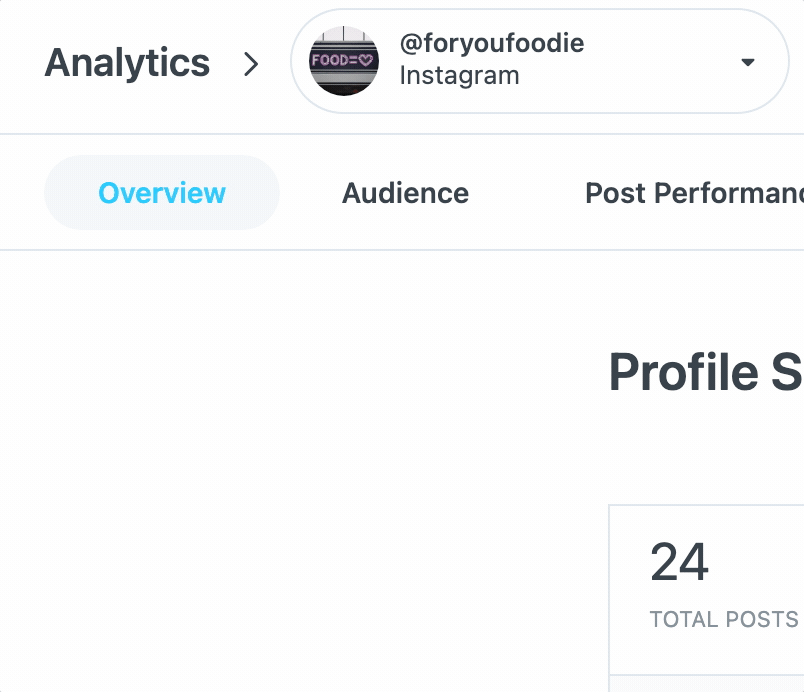 Note:
Starter plan users can view data from the last 3 months, and Growth and Advanced plan users can view data from the last 12 months.
Overview
This is the tab that you'll initially view when accessing TikTok Analytics, and contains data about the performance of your TikTok profile.


Profile Summary
Here you'll see totals of your TikTok video & profile views, likes, comments, shares, and followers for the given date range.
Profile Growth & Discovery
This section contains graphs on your TikTok follower count and video views, and how they have changed over time.
Profile Interactions
In this section you can see the number of views your TikTok profile has received over time.
Audience
Navigating to the Audience tab of your TikTok Analytics will display data about your TikTok followers.

Audience Engagement
The follower activity graph shows the level of your follower's online activity on an hourly basis for the past week. This can be useful for determining when may be the best time to post on TikTok, based on when your followers are most active.
Note:
The date range for the follower activity graph cannot be adjusted.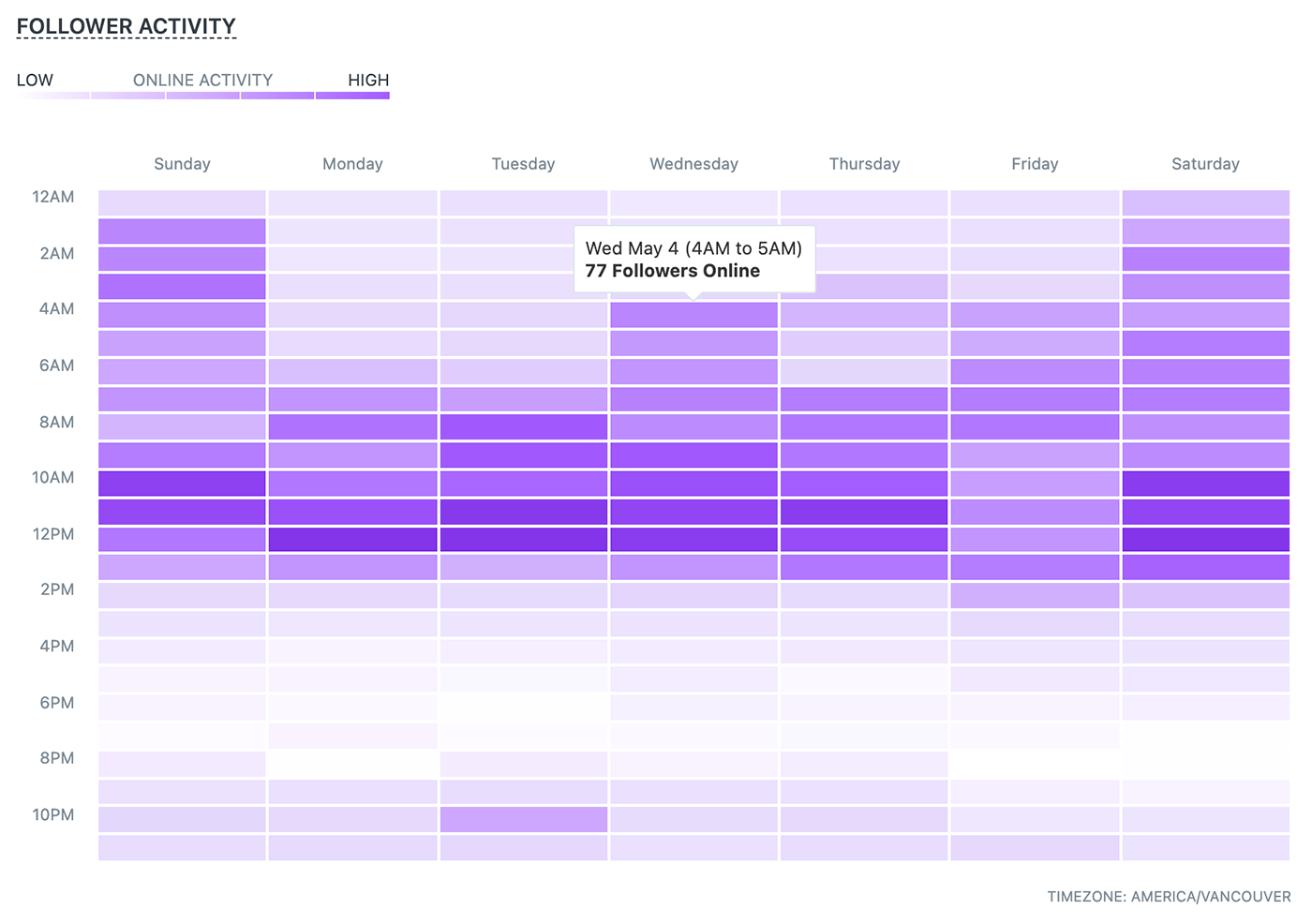 The level of online activity is shown with the shade of purple. The darkest shade shows the highest level of activity and the lightest shade the lowest. You can also hover over each time slot to see the actual number of followers online at that time.
Audience Demographics
This section includes a pie chart showing the distribution of your followers by gender, and both a list and map view of the top countries your followers engage from.
Post Performance
The Post Performance tab provides a table view with more detailed information about the performance of your individual TikTok posts for a given date range.

Click on a post to view more detailed metrics about its performance. These metrics include the number of views, likes, and comments, as well as details on where your video traffic comes from and the distribution of viewers by country.


Related Articles
Schedule and Publish TikTok Posts
TikTok Account Types & How to Switch