How Scheduling and Publishing Works
You can schedule Instagram posts from both Later on the web or Later's mobile apps.
Instagram business profiles can schedule single image and video posts to Auto Publish to Instagram.
Instagram personal and creator profiles will receive push notifications to publish posts to Instagram.
All Instagram profiles will receive push notifications to publish Multi-Photo posts and Instagram stories.
Scheduling a Post to Instagram
1. Go to your Calendar in Later on the web.

2. To save time, drag and drop the media you want to schedule onto your Calendar.
4. Set the date and time you want the post to go out.
5. Set the post to Auto Publish or Notification.
6. Hit Save to schedule the post.
Important: Only Instagram business profiles can Auto Publish single image and video posts. Multi-Photo posts need to be published through notifications.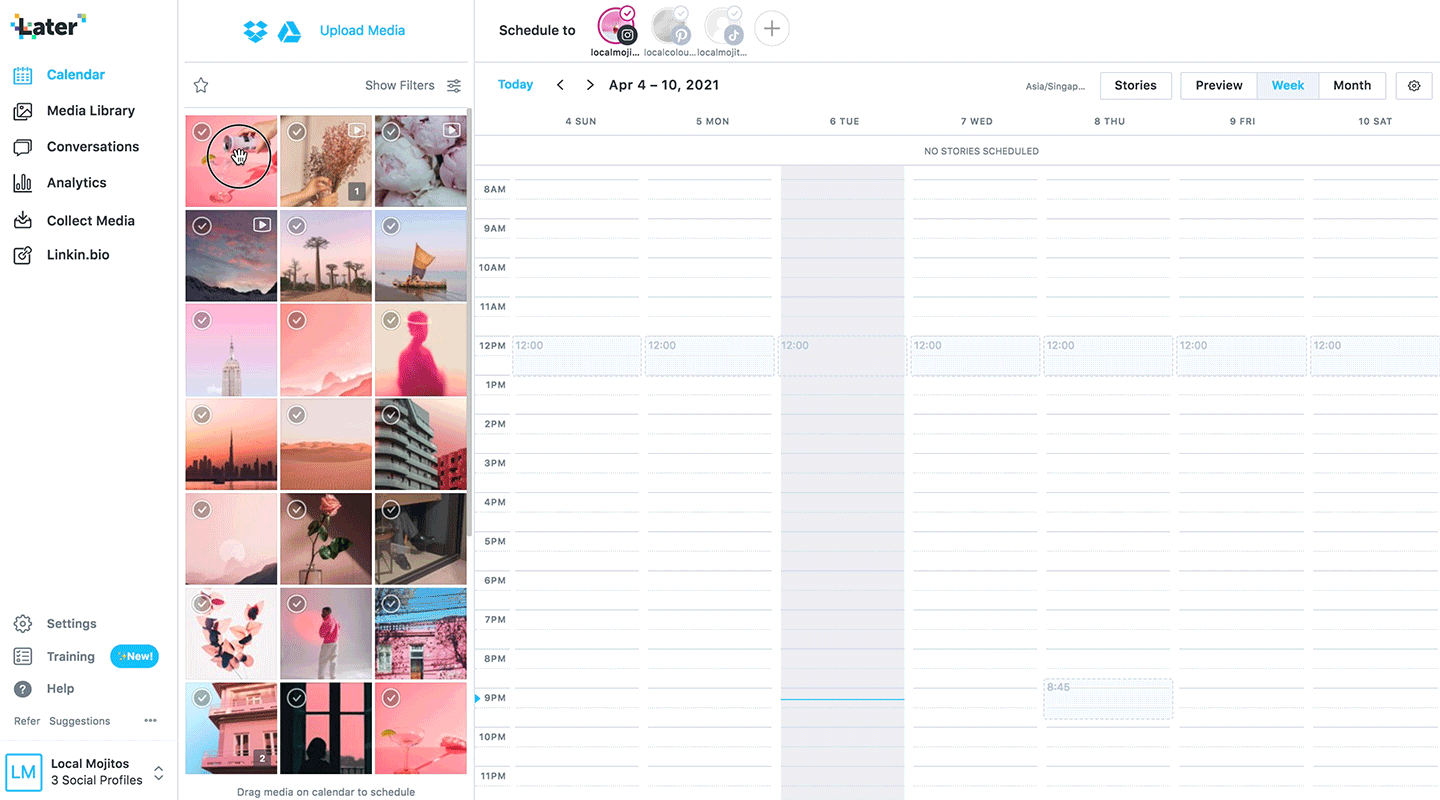 Publishing your Post to Instagram
1. Auto Publishing
Your post will be automatically published to Instagram at its scheduled time.
Important: Auto Publishing is only available for Instagram business profiles and single image and video posts. You have to enable Auto Publish first for it to work.
2. Notification Publishing
Later will send a push notification to your mobile device when it's time for you to publish.
Important: Multi-Photo posts, Instagram Stories, and posts to Instagram personal and creator profiles can only be published via notifications.
Publishing via Push Notifications
First, download the Later mobile app to your iOS or Android device. Grant Later permissions to access your camera roll and send notifications.
When it's time to post, Later will send you a push notification.
Make sure you're logged into the correct Instagram profile.
Open the notification.
Tap Open in Instagram.
Select Feed to post to your Instagram feed.
Tap in the caption field and select Paste to paste in the caption we automatically copied for you.
Tag people or add a location if you want.
Tap Share to publish your post.
Tip: After your post has been published, don't forget to check how it's performing. Go into the published post in the Calendar and click See Post Performance to see the post's analytics. To give us time to gather analytics, this button will show up 30 minutes after the post is published.