Create the perfect posts and Instagram stories by adding text to your images.
Important:
Adding text to images is available on current paid plans
You can only add text to images when creating or editing a post.
Text will not be saved on your image in the Media Library.
Text can be added to images only.
Emojis can't be added to images.
Remember to abide by Instagram's Community Guidelines. Don't add text to images you don't have rights to.
Adding Text to Images
In Later on the web, create a new post or Instagram story, or open a scheduled post or story.
Click Edit on your image.
Click Text to open the text editor.
Click Add Text to add text to your image.
Choose the font, format, colour, and highlight for your text.
Type something on your image.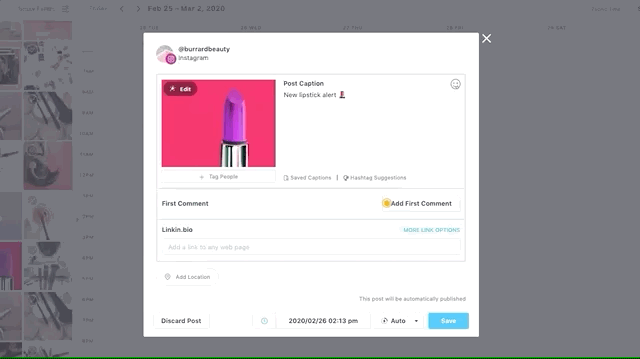 Note: Drag the text box to move it around.
Tip: You can change the format, color, and highlight for individual letters or words. Highlight the text you want to change and choose the format, color, and highlight on the left.
Tip: Save time adding text to images with multi-profile scheduling. If you create one post for multiple profiles, you'll only have to add text to the image once.
Related Articles:
Crop Photos Within Later
Later's Photo Filters
How to Schedule Instagram Stories