Wondering what the difference is between Auto Publish and notification publishing, or how to switch between them? We're here to explain!

What's the Difference?
Auto Publish

Auto Publish posts will automatically be published at their scheduled time. Once you've scheduled an Auto Publish post, there's no further action needed from you! 
Notification Publishing

If you select the 'Send Notification' option while scheduling, we'll send a push notification to your mobile device at your post's scheduled date & time. You must open this notification and complete the publishing process manually—but we'll make it easy for you by saving or opening up your media for you (depending on the post type) and automatically copying your caption.
Notification publishing is only available for

Instagram

and

TikTok

Notification publishing is

not

available Facebook, Twitter, Pinterest, and LinkedIn posts—these posts will always be auto published

Later's mobile app is required for notification publishing
Tip: For more on the notification publishing process, we have separate tutorials for both Instagram and TikTok.
How to Switch Your Publishing Method
Once Auto Publish is enabled, you can switch an eligible Instagram or TikTok post between auto publishing and notification publishing at any time before it is published. Here's how:
Open a post that is not yet published from your Later Calendar, or create a new post

At the top of the Post Builder, click on the current publishing method

Select your preferred publishing method from the dropdown

Click Save

Tip:
You can tell at-a-glance which publishing method your scheduled posts are set to use by looking at the post icon on your calendar. Auto Publish posts are denoted by a lightning bolt, and notification posts with a bell.
How to Set a Default Publishing Method
Once you set up Auto Publish, any new eligible Instagram and TikTok posts will be set to Auto Publish by default. If you prefer the default to be notification posts, you can change this setting per profile from app.later.com on desktop:
Navigate to

Settings

>

Social Sets & Access Groups

, or

click here

Click

Edit

next to the Access Group that contains the profile(s) for which you'd like to change the default

Click

Edit

next to the Instagram or TikTok profile to open up the settings for that profile

Click

Auto Publish

Toggle

Auto Publish Posts by Default

on or off

You can also toggle whether you'd like to receive a notification to let you know once a post has been auto published

Click

Save

Repeat for any other profiles, if desired

Each individual TikTok or Instagram profile can have its own default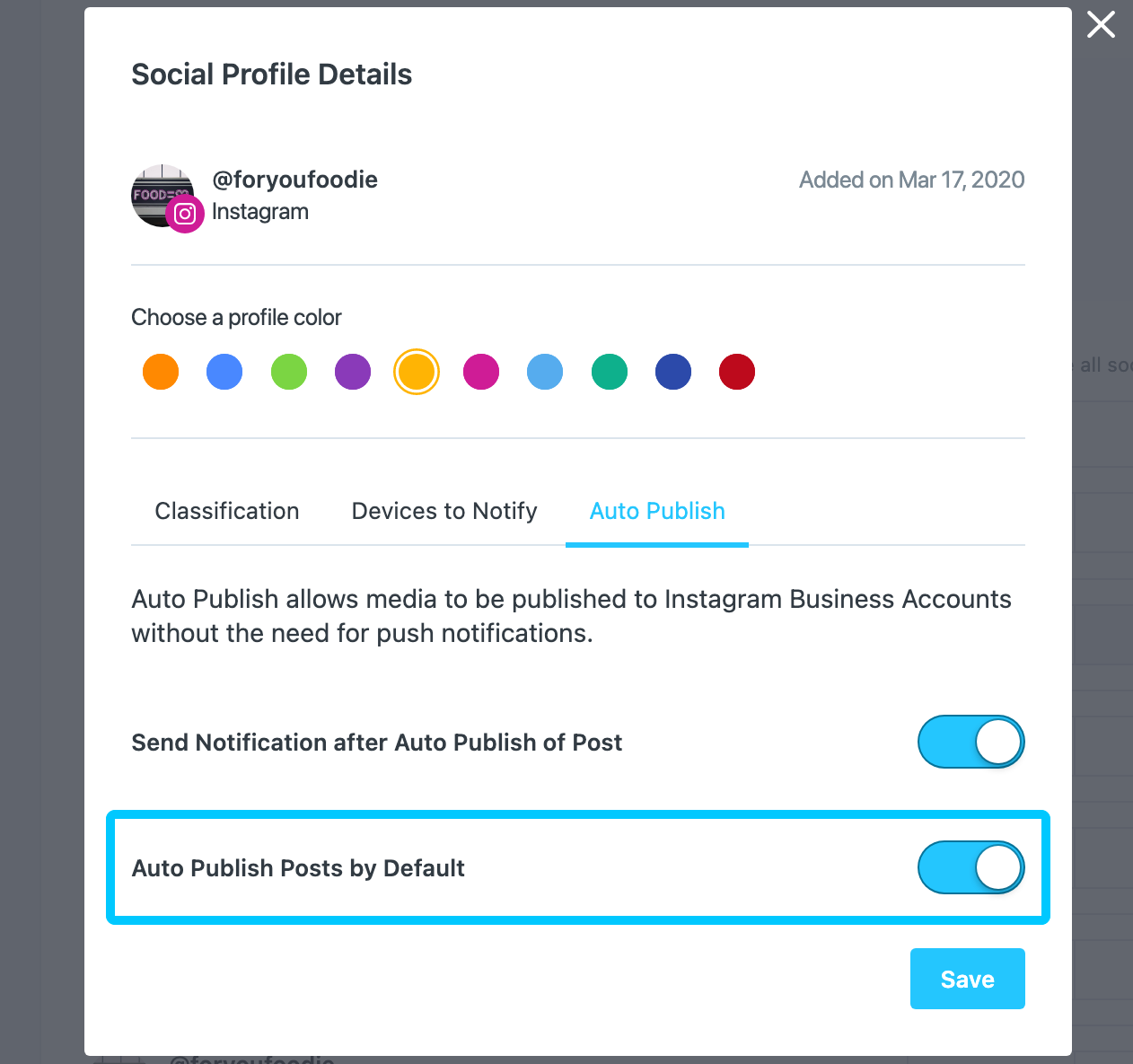 Note:
You can still manually select a different publishing method from the Post Builder for each individual Instagram and TikTok post.
Why is Auto Publish not available for my post?
Due to API limitations, Auto Publish is not available for types of posts and/or social profiles.

If you're not seeing the Auto Publish option in the Post Builder, it's likely that one of the following is true: 
You're scheduling to an Instagram personal profile.

Due to API restrictions, Auto Publish is only available for Instagram business and creator profiles.

How to switch

You haven't

enabled Auto Publish

, or you need to

refresh your profile

.

You're creating/editing a post that isn't for Instagram or TikTok

. Notification publishing is only available for Instagram and TikTok. Facebook, Twitter, Pinterest, and LinkedIn posts will always be auto published.