Tracking and measuring your Instagram analytics is the best way to gauge and understand your account's growth. To help keep all of your data organized, you can export your Instagram analytics from your Later dashboard as CSV files straight to your desktop. That's one less thing to worry about when it comes to monthly progress reports.
Instagram analytics are only available for Instagram business and creator profiles due to limitations from Instagram.
Exporting Later Analytics as CSV files is only available on Growth and Advanced plans.
Your CSV files will be in spreadsheet format.
Graphs cannot be exported as files, but you can take screenshots of them instead.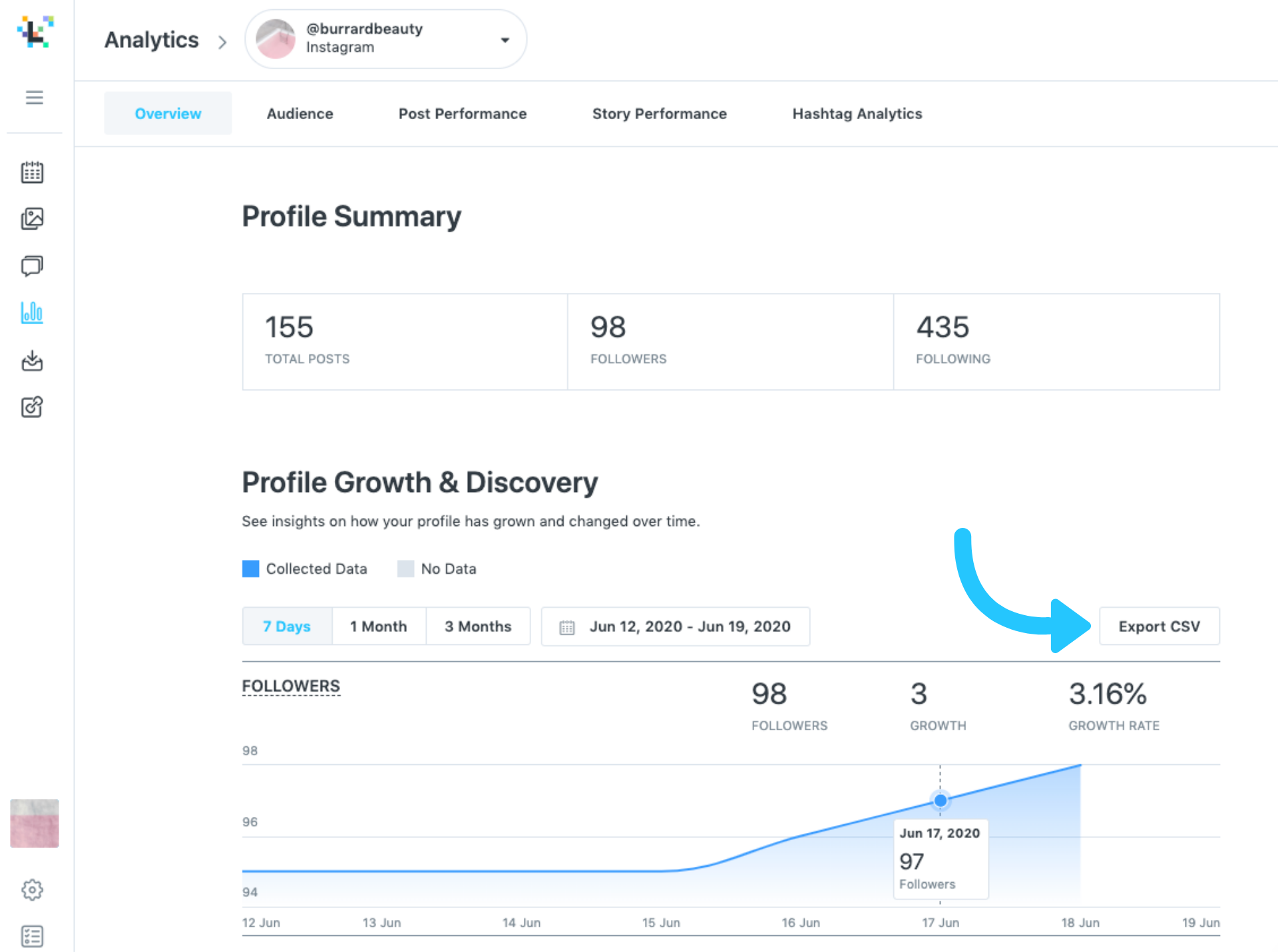 What Analytics You Can Export
From your Later Analytics dashboard, you can download and export CSV files for the following analytics:
Instagram Overview Analytics:
Instagram Profile Growth & Discovery Metrics: How your profile has grown and changed over time.
Instagram Profile Interactions: How people are interacting with your profile.
Instagram Audience Analytics:
Instagram Audience Engagement: When your followers are on Instagram and engaging with your content.
Instagram Audience Demographics: The breakdown of your audience by gender and age ranges.
Instagram Audience Location and Language: Where your followers live and the language they speak.
Instagram Post Performance Analytics:
Instagram Detailed Post Performance: How your Instagram feed posts performed over time.
Instagram Story Performance Analytics:
Instagram Story Performance Analytics: How your Instagram Stories have performed over time.
Instagram Hashtag Performance Analytics:
Instagram Hashtag Performance Analytics: How your posted hashtags have performed over time.
Just follow these steps below and you'll be able to download your metrics to your desktop!
Downloading Your Instagram Overview Reports
The reports accessible from your Overview tab give you really great insight into how your account is growing and performing over time! It's a great place to start if you're new to reporting.
From here, you can download 2 separate CSV files related to your profile's performance:
Profile Growth And Discovery
Profile Interactions
Accessing Your Profile Growth and Discovery CSV File
Click on the Analytics tab on the left-hand menu of your Later dashboard and then select Overview from the top menu: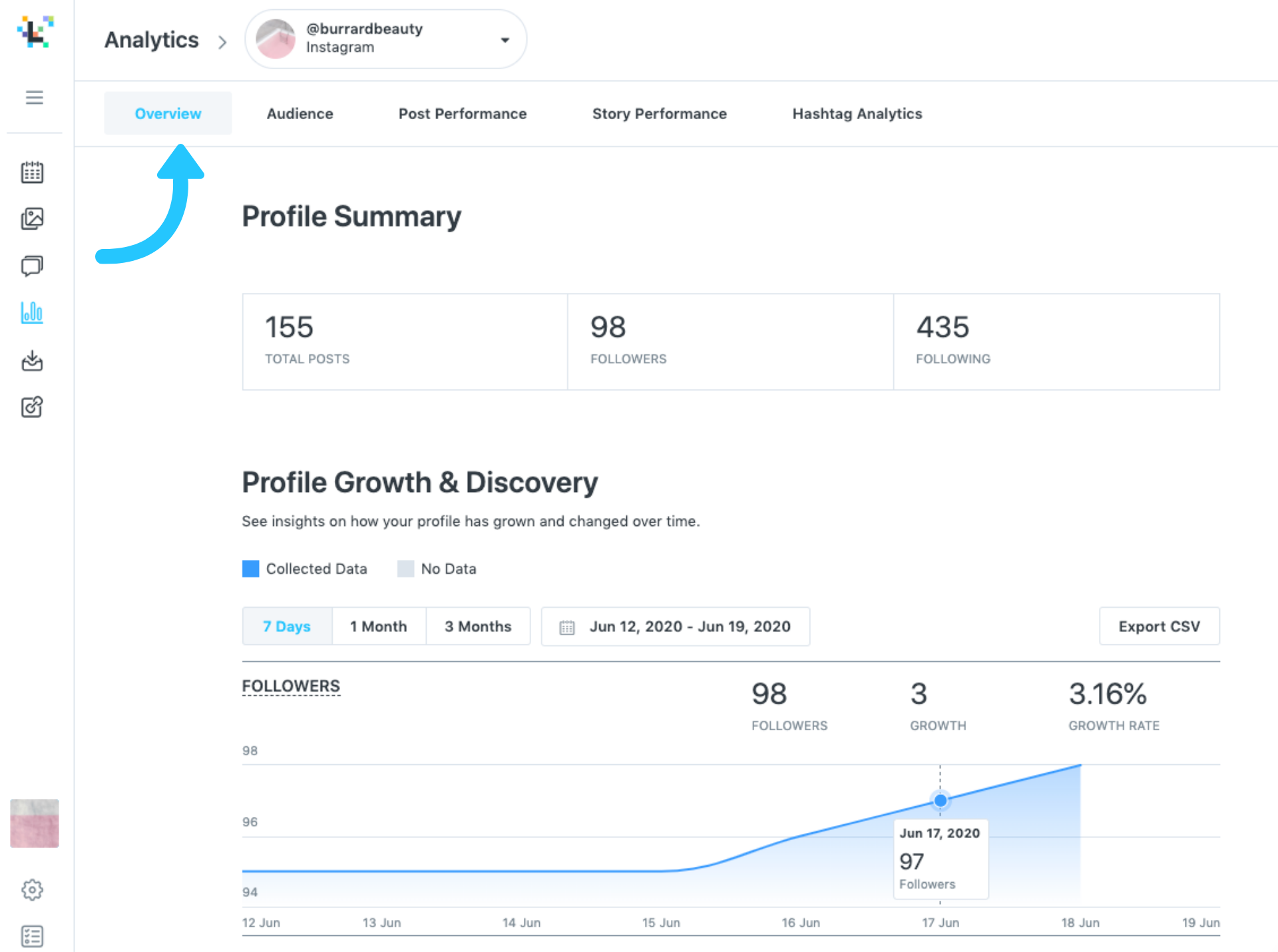 Here you'll find your Profile Growth and Discovery metrics broken down by followers, impressions, and reach.
Select the date range that you'd like to download your Profile Growth and Discovery metrics for. You can choose 7 days, 1 month, or 3 months from the options bar, or select a specific date range using the calendar option.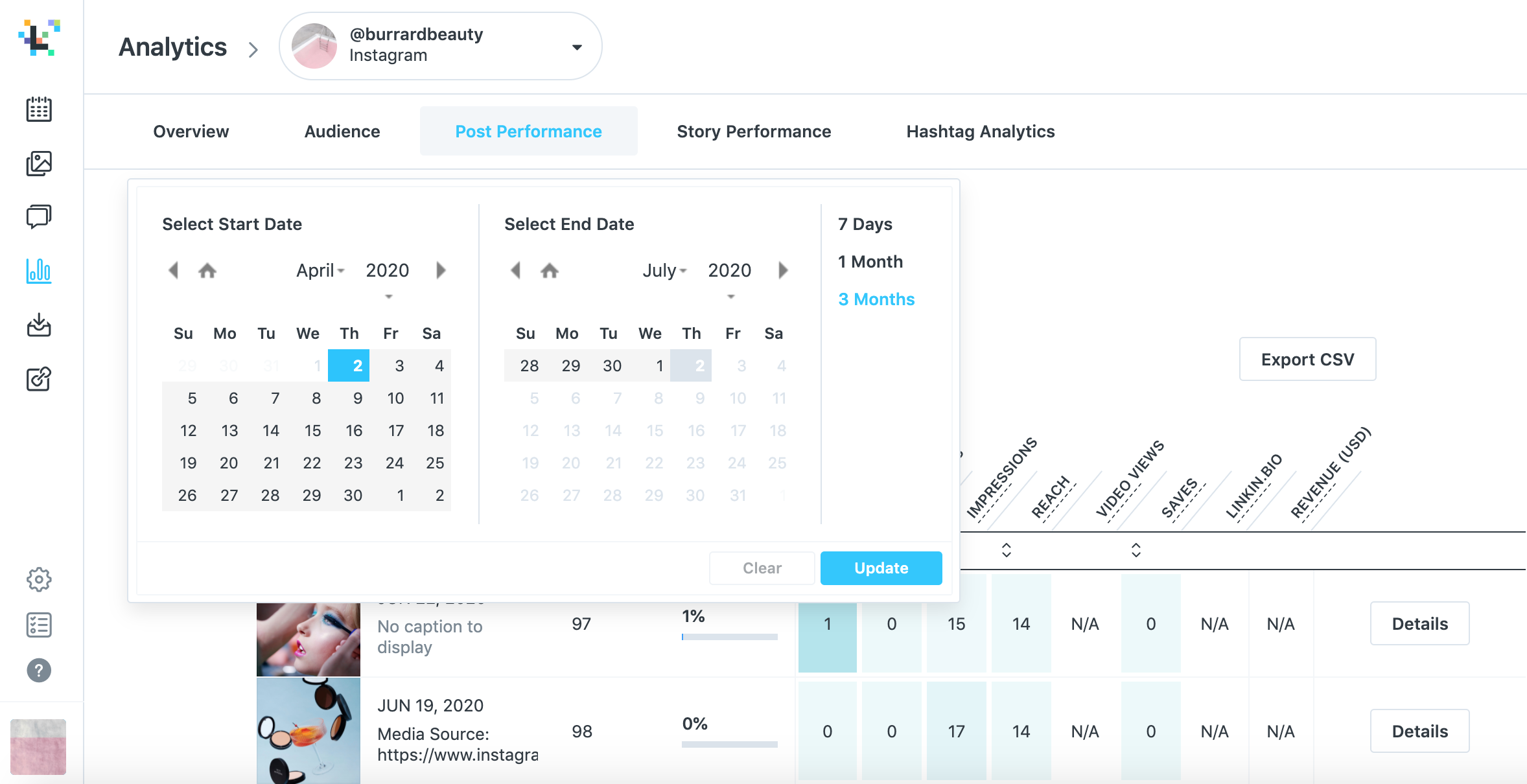 Once you're happy with your selected date range the data will refresh and update on your screen — you're now ready to export your data.
Click the Export CSV button and your file will begin to download to your desktop.