Your Performance Report makes it easy for you to share your Instagram analytics with your team, clients, or audience. Using analytics data from Later, we'll create your Performance Report for you. All you have to do is share your unique report link to show off your stats.
Important:
Performance Report is included in Analytics Standard, which is part of Later's Growth and Advanced plans

Your Performance Report will show your analytics over a 90-day period, but some data may reflect a different time period

Your Performance Report is accessed through a unique link — not a downloadable file

Data may be missing from your report if your connection to Later expired during the reporting period
What's In Your Performance Report
Your Performance Report includes key data from your Instagram analytics, so you can easily share a snapshot of your performance with your team, clients, or audience. Here's what your report includes:
Profile Growth & Discovery

: See your new followers, impressions, profile views, and website clicks from the reporting period

Audience Demographics:

See the countries with the most followers, ages of your followers, the percentage of male and female followers, and when your followers were online

Post Summary:

See the median reach, median likes, median comments, and median engagement of your posts from the reporting period

Best Performing Posts:

See your top 5 posts from your last 30 posts in the reporting period

Story Summary:

See the median impressions, median reach, and median replies of your Stories from the reporting period

Best Performing Stories:

See your top 5 Stories from your last 30 Stories from the last 7 days of the reporting period, excluding the last day
Note: Performance data for Instagram posts and Stories can vary widely. To provide a more accurate view of your performance, we use a median formula instead of an average formula.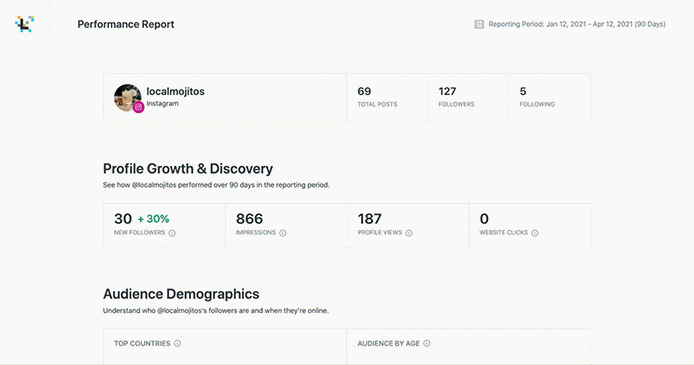 Sharing Your Performance Report
In

Later on the web

, go to Analytics

Select the Instagram profile you want to share your Performance Report for

Under Performance Report, click

Share Performance Report

Click

Create Performance Report

Once your Performance Report is created, you can copy the link and share it with anyone
Tip: Need a PDF of your Performance Report? You can save one in Chrome. Select File > Print > Destination > Save as PDF and click Save.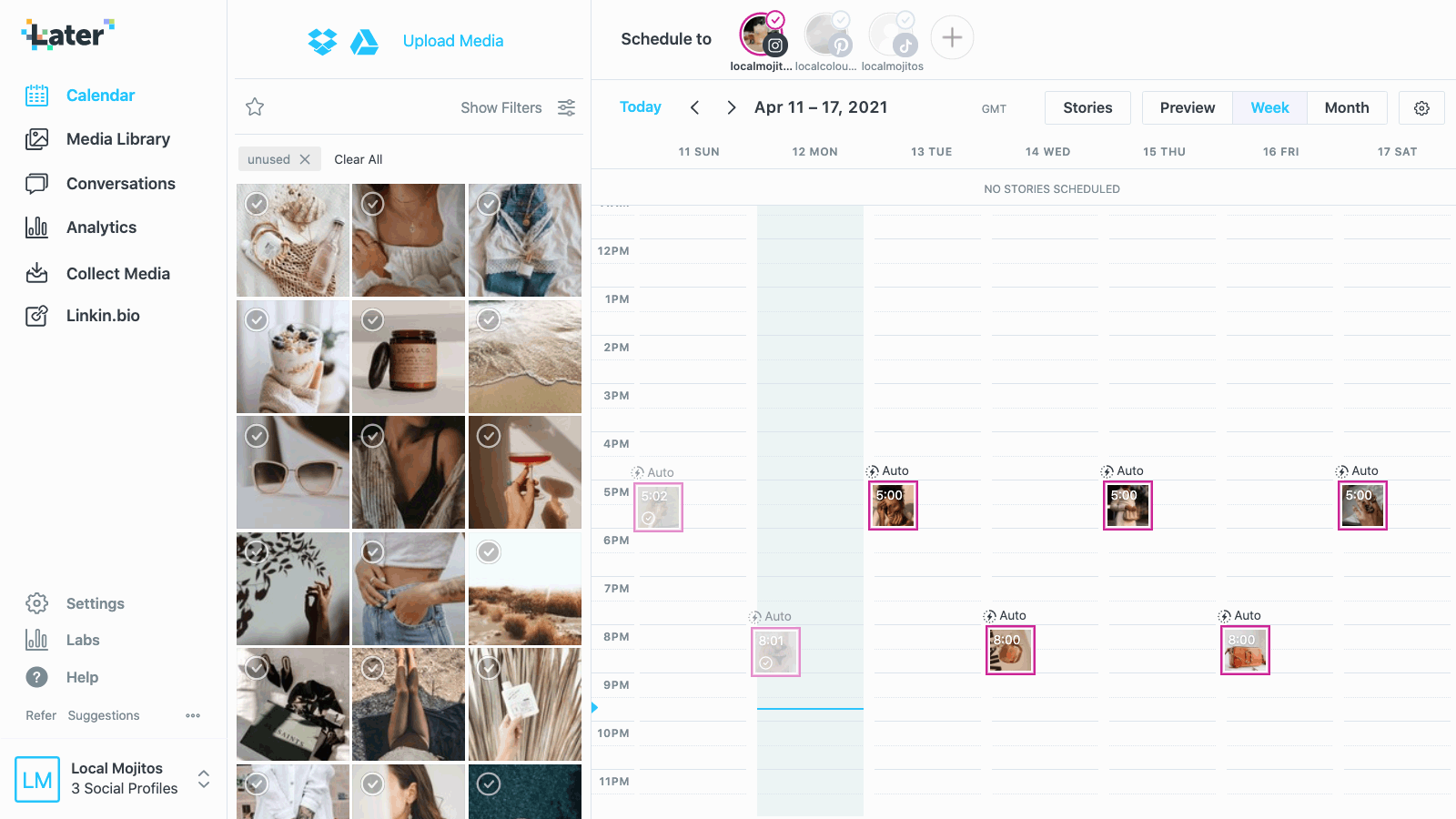 Updating Your Performance Report
Your Performance Report can be updated once every 24 hours. If you want, you can set your report to update automatically every day.
In

Later on the web

, go to Analytics

Select the Instagram profile you want to update your Performance Report for

Under Performance Report, click

Share Performance Report

Click

Settings

If you want your Performance Report to update automatically, turn on

Update Report Automatically Daily

If you don't turn on daily automatic updates, you can update your report by clicking

Update Report Now

When your report is updated, your latest analytics data will show in your report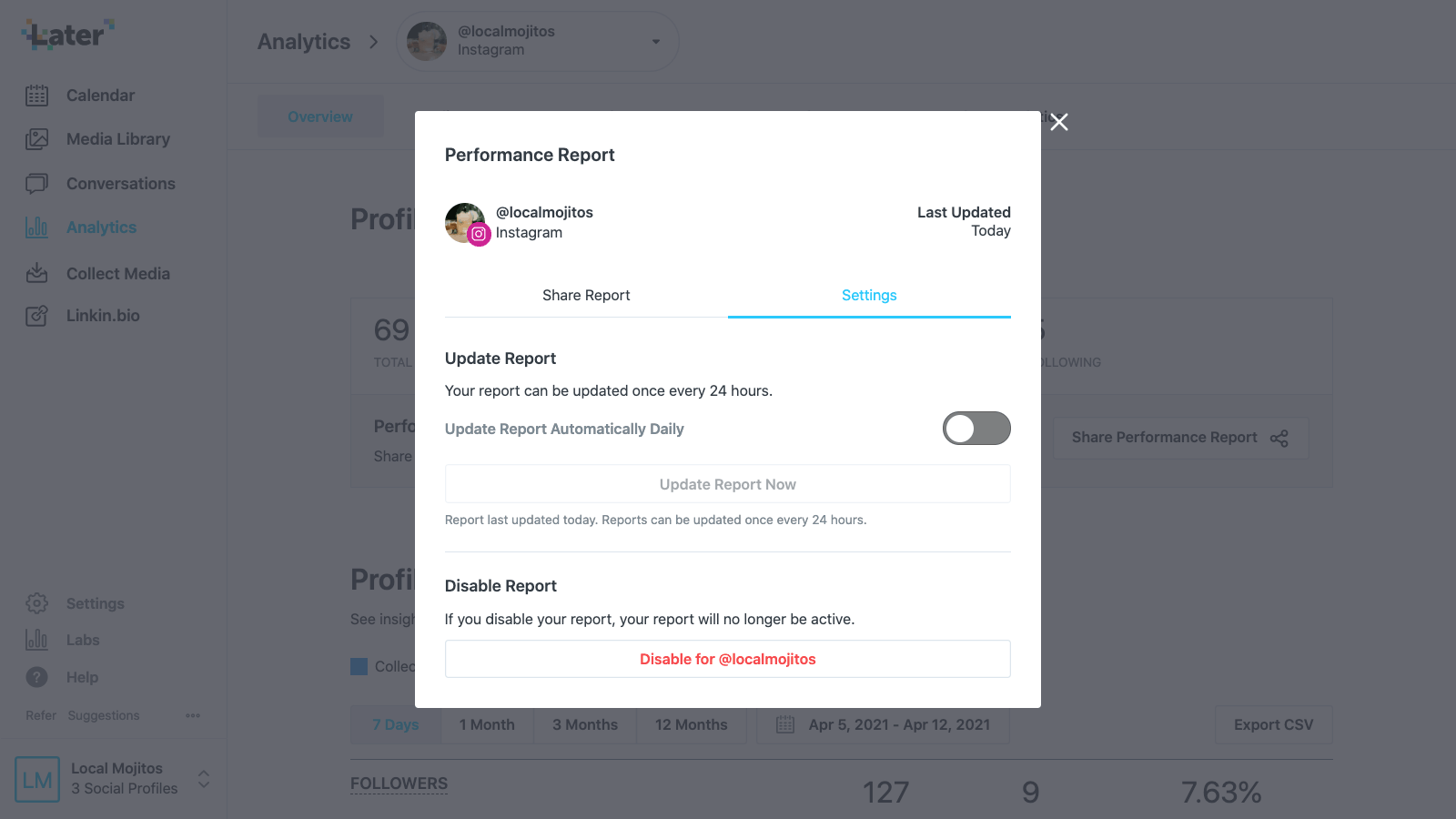 Related Articles:
A Guide to Later's Instagram Analytics