Make the most of Later by staying up to date with the latest features and improvements.
Scheduling and Linkin.bio for TikTok is here
Big news alert! We've just announced TikTok Scheduling is now available for all Later users on new paid plans, plus our free plan.
Plan and schedule your TikTok posts alongside all your other platforms in just a few clicks. When it's time to post, you'll get a notification on your phone – it's easy!
But wait, there's more!
You can also add a link to each scheduled TikTok post with Linkin.bio for TikTok.
Use Linkin.bio to drive followers to your website, blog, or wherever you like – and turn TikTok views into some mega traffic for your brand.
How to Schedule TikTok Posts with Later
Get Started with Linkin.bio for TikTok
TikTok Scheduling and Linkin.bio for TikTok is available on all new paid plans and our free plan.
LinkedIn Scheduling: Now on Mobile
Like to manage your social media on-the-go? This one's for you. Starting now, you can schedule and edit LinkedIn posts straight from the Later mobile app.
Whether you're looking to grow a following, find new connections in your industry, or generate new leads, staying consistent on LinkedIn is vital.
With Later, you can schedule posts to LinkedIn, and all your other platforms, all at once.
Schedule to LinkedIn now from your phone – you'll just need to download the mobile app on iOS or Android to get started.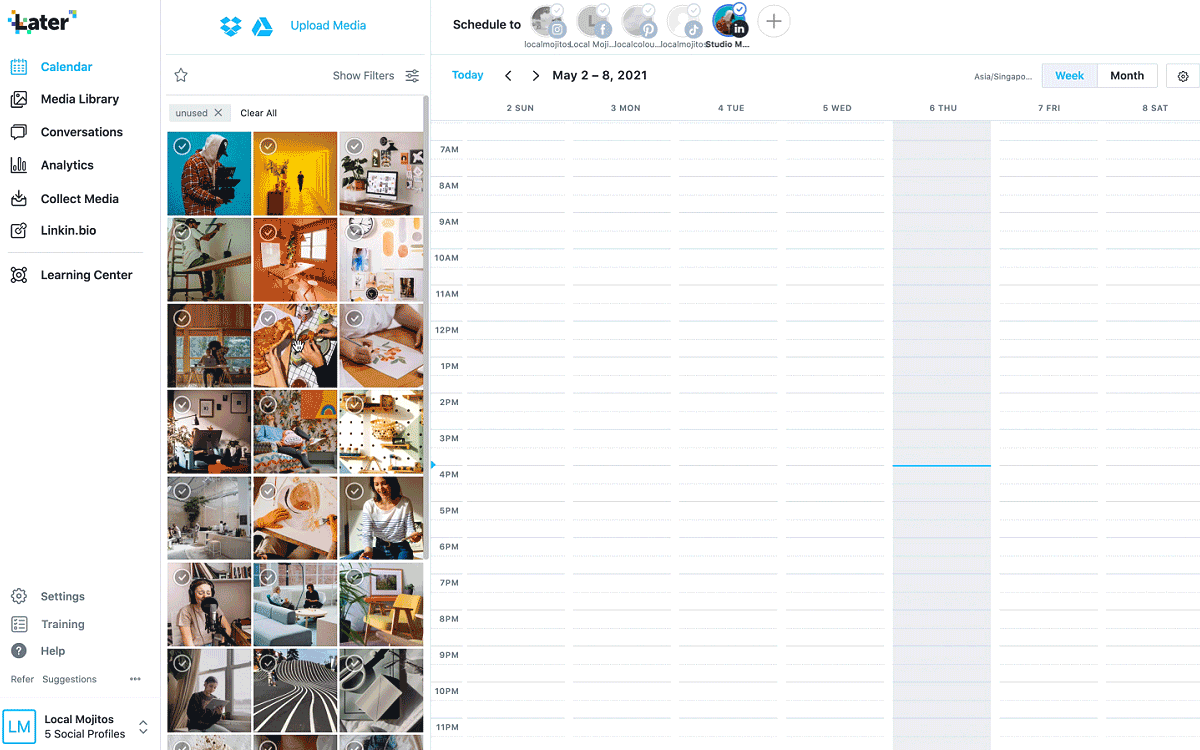 How to Schedule LinkedIn Posts with Later
LinkedIn Scheduling is available on all new paid plans and our free plan.
Performance Report: More Accurate Audience Online Data
Your Performance Report now displays audience online data hourly.
Whether you're using your Performance Report to show your Instagram analytics to brands, your team, or a client, you can now share a more accurate view of when the account's audience is most active on Instagram.
How to Access Your Performance Report
The Performance Report is available on Growth and Advanced plans.
Linkin.bio Analytics Have a New Home
You may have seen that your Linkin.bio Analytics have moved. You can now find your page views, clicks, and more from the new Linkin.bio Analytics tab in the Analytics section of the web app.
Why this change? We wanted to make it easier for you to find your Linkin.bio stats so you can see which Instagram posts are driving the most traffic (and sales) for your brand. Plus, we're making room for new Analytics features coming in the future!
Your Guide to Linkin.bio Analytics
Linkin.bio Analytics are available on all Later plans, including our free plan.