Add links or tag products in Instagram posts to build a separate Linkin.bio landing page that looks just like your Instagram feed. Direct your audience to the right content and product pages right from the link in your Instagram bio!
Linkin.bio is available for all Later users. Free and Starter plans include

Linkin.bio Lite

, while Growth and Advanced plans include

Linkin.bio Standard

.

Linkin.bio is not the same as Instagram's product tagging feature. It does not tag your posts right on your Instagram profile.
Linkin.bio can be set up from Later on the web and Later's iOS and Android apps.
Your Linkin.bio page URL is based on your Instagram username and will change if you change your username.
Due to limitations from Instagram, you can't add links to IGTV previews or Instagram Reels in your Instagram feed.
How Linkin.bio Works
Build a clickable, shoppable, landing page that looks like your Instagram feed by adding links to Instagram posts.

Add links while scheduling Instagram posts through Later's web or mobile apps.

Add links to published Instagram posts through the Linkin.bio management page on the web.

With Linkin.bio Lite, you can only add 1 link per post.
With Linkin.bio Standard, you can add 1 to 5 links per post

. You can also

connect your Shopify store to Later

to tag Shopify products in your posts.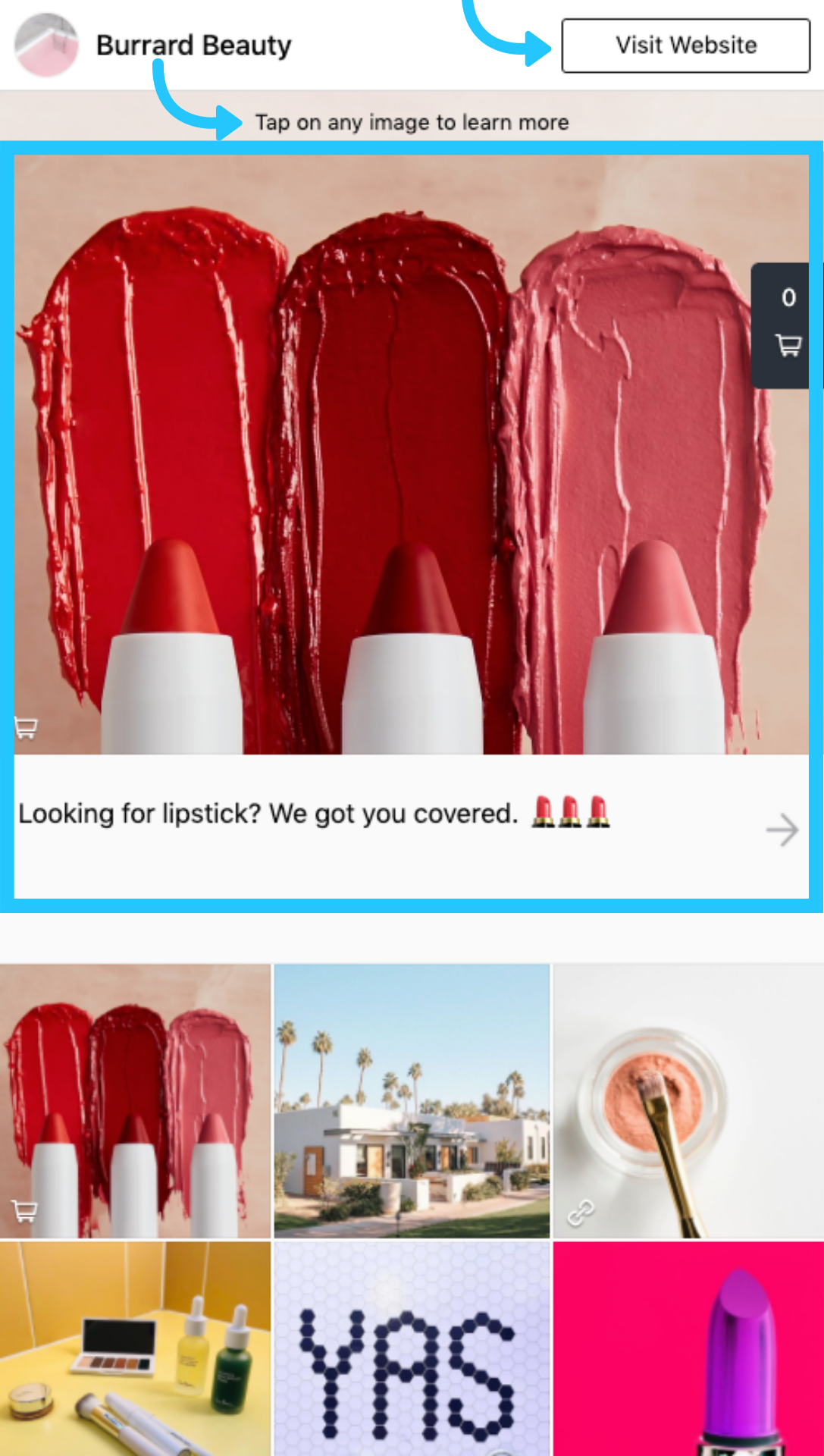 Step 1: Set up Linkin.bio
Go to Later on the web.
Go to the Access Group that has the Instagram profile you want to set up Linkin.bio for.
On the left, go to Linkin.bio.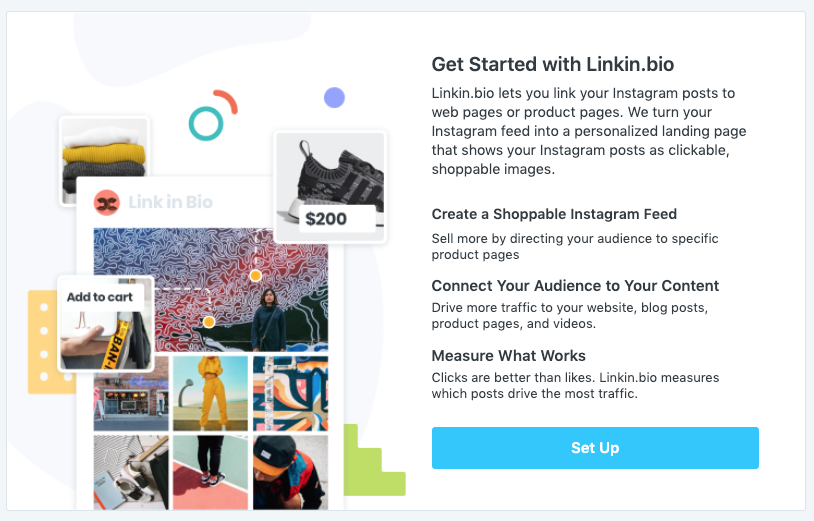 Go through the Linkin.bio setup wizard:
In the setup wizard, hit Set Up to get started.
Customize your button text. This button will show up at the top right corner of your Linkin.bio page. "Visit Website" is the default but you can change this.
Add a link to your button. We recommend linking to your website's homepage, but you can add any link you want.
Enable or disable the hero image. This is an enlarged image of your last published photo to highlight your most recent post.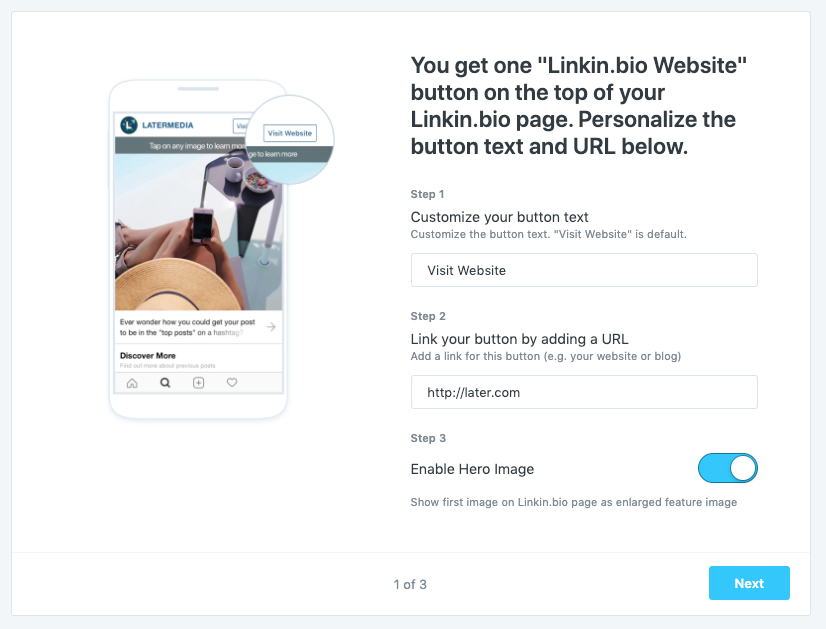 Step 2: Link Your Instagram Posts
On your Linkin.bio management page, select the post you want to add a link to.
Scheduled posts have a clock icon.
Published posts have no icon.
Linked posts say LINKED.
Unlinked posts are grayed out.
Add a single link in the Linkin.bio field and click

Add to Linkin.bio

to save your link. With Linkin.bio Standard, you can

add multiple links

by selecting

MORE LINK OPTIONS

.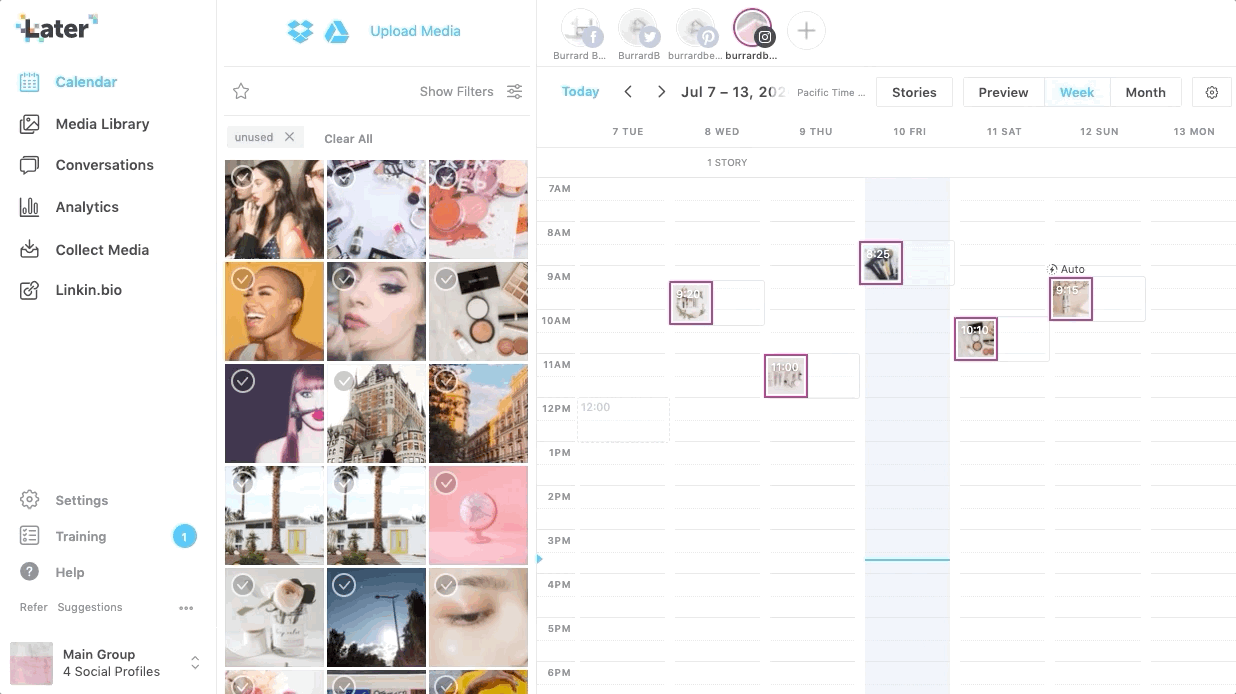 Tip: After you've added your links, click View Linkin.bio Page to see what your Linkin.bio page looks like!
Note: You can also add links to scheduled posts from your Calendar, or add links when scheduling Instagram posts through Later on the web or mobile.
In the Later Android app, you can also add links to posts published through Later. From the Schedule tab, tap View Posted to see your published posts. Go to Linkin.bio under Additional Options to add, edit, or remove a link.
Step 3: Add Your Linkin.bio URL to Your Instagram Bio
Add your Linkin.bio URL to your Instagram bio so your audience can click through or shop on your Linkin.bio page.
On your Linkin.bio management page, select Share Link.
Hit Copy to copy your Linkin.bio link.
Go to your profile on Instagram and hit Edit Profile.
In the Website field, paste your copied Linkin.bio link.
Note: If you already have a website link on your Instagram profile page, replace it with your Linkin.bio link. Remember that your Linkin.bio page has a button that redirects visitors to a page of your choice.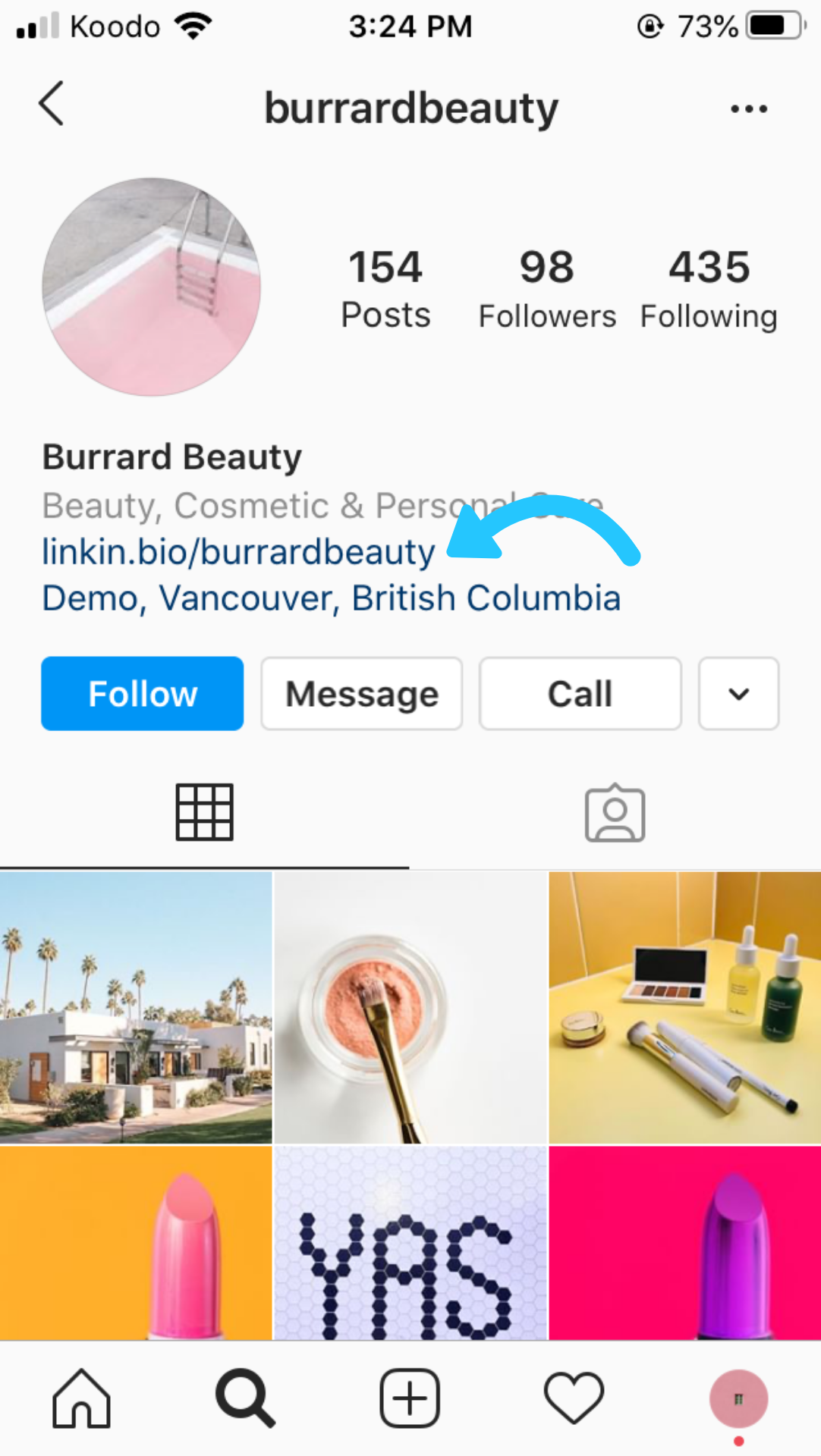 Step 4 (Optional): Enable Google Analytics UTM Tracking
If you already use Google Analytics to track conversion and sales, enable Later's UTM tracking to make things easier.
On your Linkin.bio management page, select Advanced.
Enable UTM Tracking.
Important: If you're already adding your own UTM parameters to links, don't enable Later's UTM tracking. This will interfere with the tracking.