Plan and schedule Reels to your Facebook Page to stay organized and keep your audience engaged.
Important:
Facebook Reels scheduling is available on current paid plans
Each Reel is equal to 1 Later post
Facebook Reels can only be scheduled to Facebook Pages

Personal profiles, including those in professional mode, are not supported in Later due to limitations set by Facebook

Facebook Reels will publish to both the main Facebook Page Feed and the Reels section

A Facebook Reel can include 1 video between 4 and 60 seconds long, in a 9:16 ratio

The minimum resolution for a Facebook Reel is 540 x 960 (540p), and the minimum frame rate is 30 FPS

All Facebook Reels are automatically published at their scheduled time

​​Due to API limitations, custom covers are not supported for Facebook Reels

You can select a video frame as the cover

If you create a Facebook post with a single video in Later, its Post Type will automatically default to Reel

You can change this via the Post Type dropdown in the Post Builder
How to Schedule Facebook Reels
Desktop
Go to app.later.com on your desktop and select your Facebook Page from the Calendar
From the side library, drag your video to the Calendar to open the Post Builder
Next to Post Type, select Reel
Add a caption and hashtags for your post, or use a Saved Caption
Adjust the scheduled date and time for publishing
Optional Edits:

Click Edit Video to crop or trim your video
Click Change Media to replace your video
Click Select Cover to select a frame from the video for the cover

Due to API restrictions, uploading custom cover images for Facebook Reels is not supported

Click Save
Your Facebook Reel will automatically publish to your Facebook Page at its scheduled time.
iOS
From the Schedule tab of Later's iOS app, click the create-post button in the bottom right: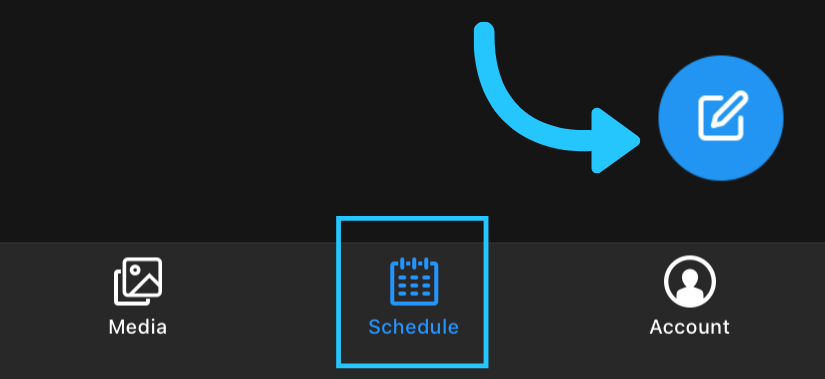 Tip: You can also start a post by long-pressing any open time slot in the Calendar view
Select the Facebook Page you want to schedule to from the top of the Post Builder
Under your selected page, ensure Reel is selected
Add a video for your Reel by tapping +
Add your caption and hashtags

You can add a Saved Caption by tapping the Saved Captions icon

Select a date and time for publishing

Or tap Now to publish your Reel at the current time

Tap Schedule Post
Android
From the schedule tab of Later's Android app, click the create-post button in the bottom right.
Select the Facebook Page you want to schedule to from the top of the Post Builder
Under your selected page, ensure Reel is selected
Add a video for your Reel by tapping +
Add your caption and hashtags

You can add a Saved Caption by tapping the Saved Captions icon

Select a date and time for publishing

Or tap Now to publish your Reel at the current time

Tap Schedule Post